This week I was invited down to the Riverside but not for a football match, but something that really is a matter of life and death, the opening of a mass vaccination centre.
It was a sunny Monday morning as I followed the yellow road signs to the East Stand car park. Fully a year on since our last full home game, only the false dawn of the Bournemouth pilot game had brought football to our home temple in the intervening months. Of course I was not here for football but for something that offers the best route to returning to those Boro red seats and that is mass vaccination.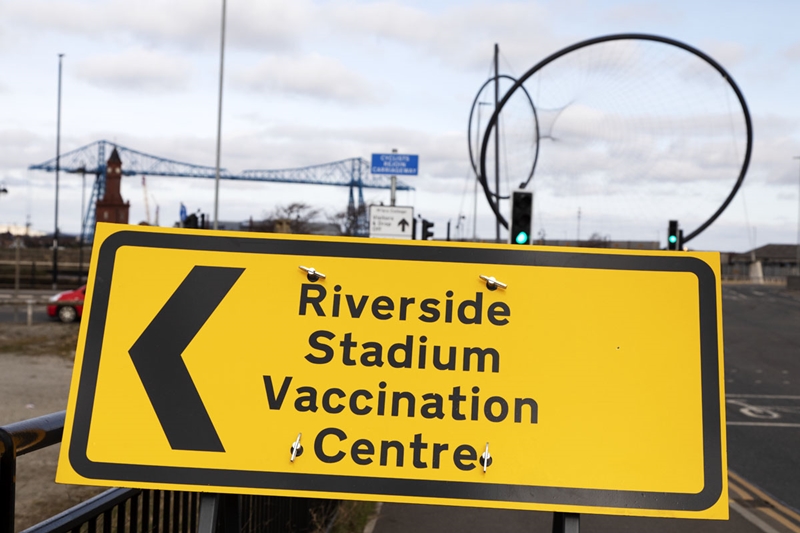 It was a thrill to walk through the tunnel and out on to the edge of the hallowed turf where a group of ex players and club officials were present with media, all suitably socially distanced and many like me protected by masks. I could see CEO Neil Bausor, who like me, was sporting the bohemian look of shoulder length hair. The hair dressers of Middlesbrough will be at this very moment waxing down their combs, scissors and clippers and preparing their biggest hair cupboards for their own mass action.
Bernie Slaven, Gary Pallister, Steve Vickers, Craig Hignett and Neil Maddison were there as former players waiting to receive an injection. Popular coach Leo Percovic was also there alongside Neil Bausor.
I was then taken on a tour of the mobile pod, parked up behind the Willie Maddren Centre. One of two large portable clinics able to deal with a capacity of 500 patients a day. The second is already in place and will soon be ready to double the capacity. So, it will be a 1000 vaccines a day over a 7 day week.
There is no waiting about, the whole process from documentation to vaccination is done quickly, efficiently and safely in semi screened bays. Then it is through to a safely distanced waiting area where you sit tight for quarter of an hour before you can return to your car and drive home. Just as you would after a flu jab, for those have had this jab.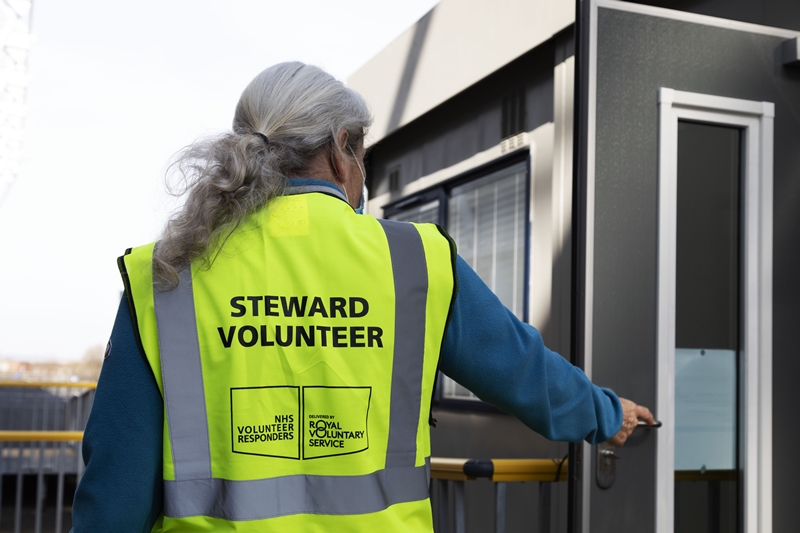 I had received my first Astra Zeneca jab a couple of days before so knew the drill but the scale of this operation and military precision impressed. But everyone was helpful and friendly as well. Welcoming even. And it is a chance here to return to the Riverside as well as a way to get back into life. After the incarceration of the past 12 months this is an opportunity no Boro fan or indeed son or daughter of Teesside would want to turn down.
On his way to get his injection was former Boro midfielder, Academy coach and now BBC Radio Tees football co-commentator, Neil Maddison and I had been granted access to interview Maddo and I think without any further ado I will transcribe that interview.
Fly: Morning Neil. This morning you have come down to the Riverside for a vaccination I don't suppose you would have ever expected that.

NM:
Yes but as soon as the phone call was made I absolutely jumped at the chance to come in. It is important that we all try to get the vaccination to get back to normality and we are stood at the Riverside Stadium now and once everyone does get their jabs then hopefully we can start filling the stadium back up.
Fly: Did you have any trepidation before getting your vaccine?

NM:
Not at all. I think it is the only way forward. I have heard people say they are dubious about it but for me it is about getting back to normality. It is first thing on my mind, I want to get the vaccination.


Fly: You have been sitting in the Riverside on matchdays in an empty stadium, I guess it brings home just how it is affecting everyone's lives through this last year.

NM:
Yes. I think people work for football. People work to go to away games and to look forward to the weekend, to come here and sit here. They make a day of it, down to the pubs, have a few drinks, come to the game and hopefully watch a team win games and I have sat in here in an empty stadium for quite some time now, and it is not the same, nowhere near the same. We had a trial where I think we had 1000 fans in and honestly it made a huge difference and that was only with a 1000. So, you can imagine filling the stadium. Because I can imagine a lot of fans do want to come back and watch football but the only way we can do that is by everyone getting their vaccination.
Fly: For Boro fans it is a year since we have been here, do you think it might help attract us to get a vaccine with it being at the Riverside. And seeing the stadium for the first time in such a long time?

NM:
Absolutely, I think you are right. Walking through the tunnel there and being in the stadium, yes I'm in the stand, you don't get to come down here because it is all cordoned off. Sat up in the stand there, we have our spot but coming down here this morning and walking through the tunnel and stepping onto the pitch it has got that feel, it has got that real feel about it. It is a beautiful day, you just want this stadium packed out and watching football matches and I urge everyone if the opportunity arises, to make sure you take the vaccine.
Fly: You played when the stadium was absolutely packed every game. It must have been so much different for a player than an empty ground.

NM:
It is not the same, it is nowhere near the same. I can imagine the players going out and getting used to it now. When I played here it was a full house, it was a good season and we got promoted that season 97/98 and it is packed out and you walk out to the music, talking about it now sends goose bumps all over because it is something special and winning games the majority of the time in front of your home crowd is something special. So, the sooner we get fans back into this stadium the better it will be.
Fly: Neil you are getting your first vaccine today lets hope most of us have had both doses by the end of the summer and we can all return here for next season to roar the team on to another promotion season.

NM:
Well that's the key. I think under Neil Warnock we've possibly seen what could happen next season. I think it is going to be tough to make the play-offs but there is still an outside chance. But to have a season where the fans are back in and have a season where you are challenging is what everyone wants.
So, as I said before, you get offered that vaccine make sure you take it because I want to say this stadium rocking again.