Sir Bobby Robson was born 90 years ago this Saturday (18 February) in Sacriston, County Durham.
To celebrate his memory and the incredible legacy he left us, his family, the football community and the Sir Bobby Robson Foundation are coming together to remember him in a wide range of different ways this week, all under the umbrella
Bobby '90
.
Podcasts, fanzines, memories shared by his former clubs and more,
Bobby '90
is a week-long celebration of the wonderful legacy Sir Bobby left us in football and through his cancer foundation. And on social media, it is hoped fans will share their own memories of this very special man using the hashtag #Bobby90.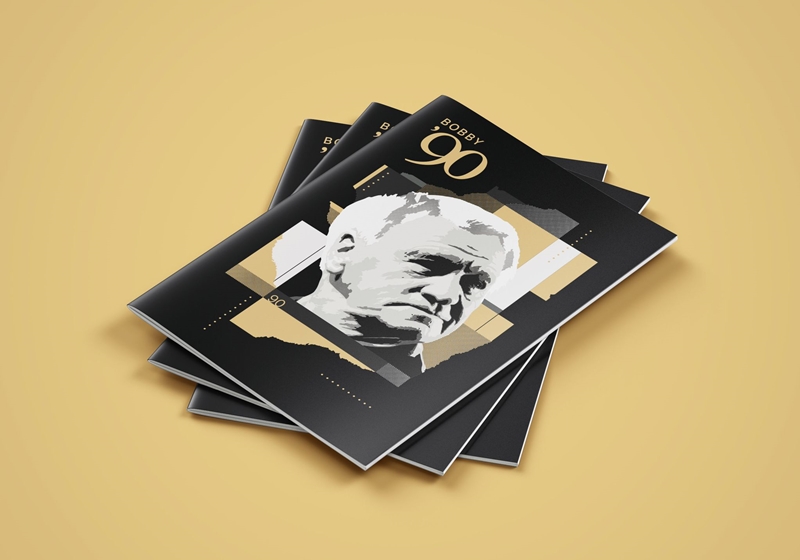 Sir Bobby's widow, Lady Elsie Robson, says: "Bob really loved his birthdays and he'd talk about them for weeks ahead of the day. He'd be just the same if he was here to celebrate his 90th and I wish he was.
"It's wonderful that so many people are remembering Bob this week and celebrating what he achieved, in football and through his cancer foundation.
"It means so much to me that our foundation continues to go from strength-to-strength because I know how much good we're doing. It was very personal to Bob and all the family are involved. We've had such marvellous support from football and I know Bob would just want us all to keep going with it."
At the Sir Bobby Robson Cancer Trials Research Centre, Northern Centre for Cancer Care, Newcastle, the team will be gathering together on Friday to remember the man who was a patient in the unit, and who gave so much to help others there by launching the cancer foundation that equipped it, and that continues to fund a doctor and nurse within it.
Around 400 patients are referred to the Sir Bobby Robson Centre each year and there are 30 clinical trials currently active.
Professor Ruth Plummer, Director of the Sir Bobby Robson Centre, says: "We'll always be very grateful to Sir Bobby for what he did in launching his foundation, and to everyone who continues to support it.
"The team here will be coming together to celebrate Sir Bobby's birthday with some cake later in the week and no doubt we'll be sharing some very happy memories of him then.
"He was a very determined man, always so passionate about the trials work here and desperate for us to make progress. I know he'd be very proud of the ongoing work and he's an enormous part of our story."
A key part of the
Bobby '90
celebrations is a very special, limited-edition Sir Bobby fanzine, created by football fans and which will raise funds for his foundation.
Beautifully designed, the 40-page fanzine is packed with wonderful memories and reflections about Sir Bobby from son, Mark Robson, Sir Bobby Robson Foundation Patron, George Caulkin, football fans from Sunderland, Middlesbrough, Newcastle, Ipswich and Europe, and contributions from former players, including England legend, Gary Lineker.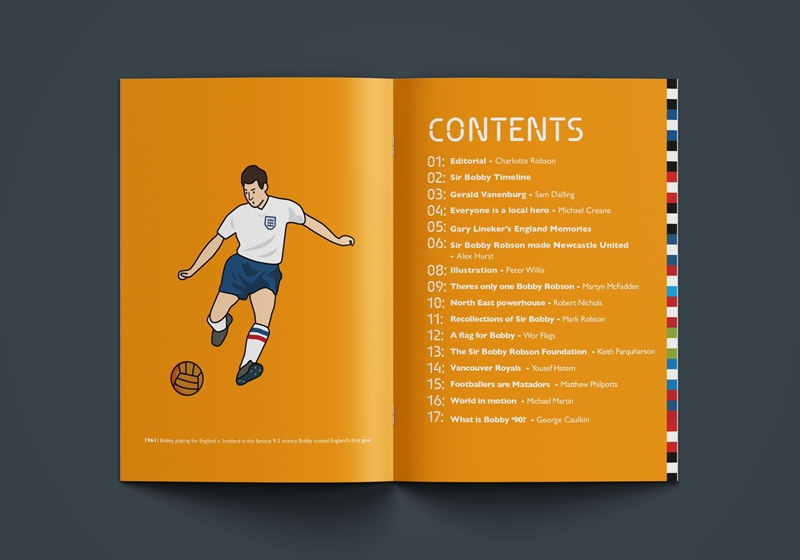 Edited by Charlotte Robson, designed by Peter Willis and featuring front-page artwork from Sam Richardson, the one-off print fanzine celebrates the life and achievements of Sir Bobby and has been a real labour of love.
Charlotte says: "Everyone who has contributed to this fanzine poured their heart and soul into it.
"We're very proud that it reflects Sir Bobby's life as a whole, within football and beyond. Every article shines a light on a different element of Sir Bobby's life and the amazing influence he had, and continues to have through his charity.
"We always knew we wanted to raise money for his cancer foundation and when we received a very moving article for the fanzine from a patient getting treatment at the Sir Bobby Centre, we knew we'd done the right thing. We're hoping it will be a huge success and do Sir Bobby proud."
The Sir Bobby Robson Foundation is part of Newcastle Hospitals Charity and more than £18m has been raised since its launch to find more effective ways to detect and treat cancer.
Working within the NHS and in partnership with other leading charities and organisations, the work funded directly benefits cancer patients in the North East and Cumbria and plays a significant role in international efforts against the disease by funding cutting-edge cancer treatment and innovative cancer support services.
The
Bobby '90
fanzine goes on sale today (14 February) and costs £5 plus post and packaging and is only available online from
www.bobby90.bigcartel.com
.
For more information, please visit:
www.sirbobbyrobsonfoundation.org.uk