England Women Play Canada tomorrow night (17th Feb) at the Riverside and ahead of that game we talk with former Middlesbrough and England international Marrie Wieczorek. Maz recently returned to work for the MFC Foundation 5 months after suffering a heart attack. She is fit and working again, last week she was coaching children at Chandlers Ridge Primary in Nunthorpe as part of the FA's Schools' Football Week, which will see over 50,000 girls take part in football activity between 7-13 February.
After the session I asked Maz to look ahead to the big game at the Riverside and reflect on just how far the women's game has come.
Q: What was it like be back working again.

MW:
It is absolutely fantastic. It seems like forever but it also doesn't seem that long as well but to come back in and get back in with the children again it's a great feeling.
Q: And this is an important week, coaching wise?

MW:
Yes it is, funnily enough, it was just the right time for me with an England international coming back at Middlesbrough FC it is massive for me.
Q: We hosted a women's international a couple of years ago with great success, didn't we?

MW:
Can I proudly say that we have got the highest attendance outside of Wembley for a women's international is the Riverside, Middlesbrough FC. So, up until now we do hold that record, which we are very, very proud of.
Q: So, it would be great to get a big crowd in again.

MW:
Yes it would but it is a lot more difficult this time because it is a Thursday night, so that doesn't make a difference. If it was a weekend you are more guaranteed because of the age of some of the children but however we are trying our best to get a many as people as we can to the game.
Q: Maz, you are a former England international yourself.

MW:
Yes a long time ago (laughs).
Q: But you must be so pleased to see how the women's game has developed over recent years.

MW:
Yes, it has been tremendous. Since they have made it more professional and at first there were only one or two teams but now the women's Super League is properly well supported, it is well run and that has made a difference. Which we knew it would. If you have full time professionals they of course are going to improve and get to the point where people will come and watch them and so yes it is great to see that. But also the opportunities then lead on to others lower down the chain, which is fantastic. Opportunities now for children from any age, playing from 5 year old. If the girls that are getting into the teams are not sure can they get any further with football. The answer is. Yes you can. Even if you are not playing there are now so many careers you can make in the world of football and women's football, both together. It is just fantastic.
Q: Going back to when you were manager as Middlesbrough Ladies, I recall you saying if the players wanted to take it further they had to go to USA.

MW:
Yes, many players went to USA, not just from our club but this area and other areas and it would be a 3 or 4 year scholarship where there was much more appreciation and opportunity in USA at the time. That was great but eventually they started doing similar things here where you can go on to college and playing. So, the growth has been fantastic when I think back now from where we started off, doing car boot sales and jumble sales to raise money. I remember the team bus once how we had to push it off the motorway hard shoulder when it broke down. All kinds of things like that. But again it all adds to the fact that is has come on so much. It is fabulous for all of us to see such great opportunities now.
Q: When you come into a school like this does it resonate with the kids women's football is on tv and former players are now presenters on tv and radio and are household names?
MW:
Yes, you see that now whereas obviously for years people would say who is that and you didn't even see women's game on, maybe only the women's FA Cup Final, one game a year. And eventually more and more. But I think there is more tv coverage because the standard is a lot better now. We have got more professionals. It does look a lot better. Many times I have heard over the years people say I have never been to a women's game before and when they go they say it is marvellous. Some of the teachers in this school were telling me they have already bought their tickets for the England v Canada game and they are taking their daughters and they go as a family group and they are all really looking forward to it. And me too.
Q: Will it be a proud day for you.

MZ:
Oh yes, absolutely. As you know Rob I am Middlesbrough through and through, I have been going there since Ayresome Park 1965, giving my age away. But then for also for women's football and England to come to Middlesbrough FC is just everything for me. It is the icing on the cake. It is totally fantastic.
England and Canada at the Riverside Stadium (kick-off 7.30pm)…
BUY TICKETS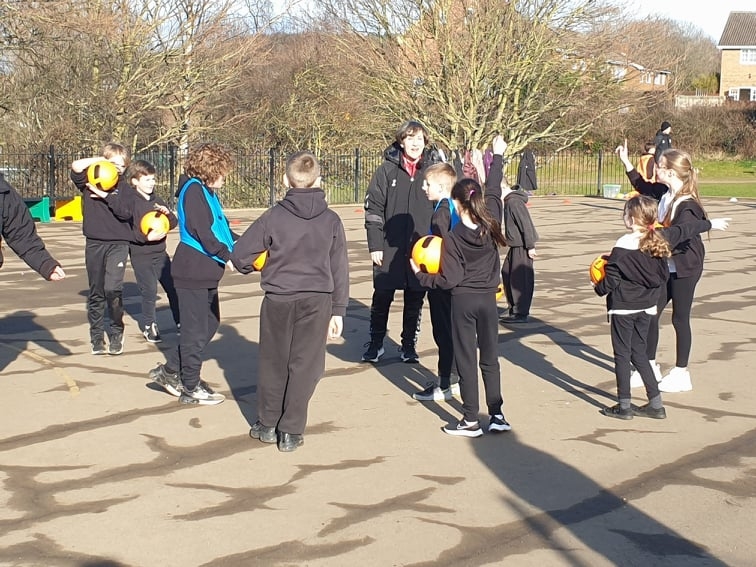 ​