There is very little that is iconic about our club.
The shirt/strip should be.
Red shirt with white chest band and trim.
Red short with white trim.
Red socks with white trim.
Nobody other than us plays in that strip.
1974-76 strips and 2004-05 were those strips
That strip design has covered those 2 periods of indisputably our best teams and highest league performances of the last 69 years.
1973-75. 1975-76 2004-05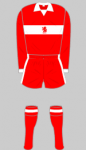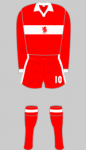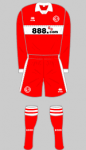 I would keep that template for away strip and change the colours.
Keep the strips fresh by changing the type of trim, the collar.
The thing I hate most is white shorts, we look like a knock off Man U/Bristol City/Charlton/Barnsley/Forest and uncle Tom Cobley and all.
The chest band massively differentiates us from Liverpool as does the shade of our red.
A Club should have a strong unique image. This kit does just that.