Heartbreaking vandalism a #HeritageCrime in a tiny Lincolnshire village where historic stained glass windows of a church have been used as target practice. The decomissioned church was rescued by its community and placed under the care of The Church Conservation Trust who were giving it a second life as the centre of the village, then someone came along with an air rifle. At Easter.
The faces of saints and of Jesus Christ have been used for what can only be described as target practice at St Helen's, Little Cawthorpe in Lincolnshire and targeted the beautiful stained glass windows here..
The
#HeritageCrime
attack could cost in excess of £4,000 to conserve and repair the damage caused to the glass.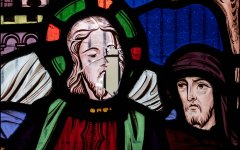 People can text to donate to help.
To donate £5 please text LCA to 70970
or to give £10 please text LCA to 70191
Alternatively, donate via our website at
visitchurches.org.uk
https://bit.ly/3uuQxmS