Afternoon folks, the weekend is upon us once again but this week we have the pleasure of kicking if off with St Patrick's Day of course. Following the disappointing performance on Tuesday against Stoke, we shouldn't be too disheartend. It will likely still go right to the wire and so heopefully we can get 3 points against Preston tomorrow to get us right back in it again.
Being St Patrick's Day it would be wrong not to tuck into a Guinness so I think I might indulge in one or two of them this weekend as I'm sure a few of us will; in fact a question at the midweek pub quiz was how many pints of Guinness are drank around the world on St Patrick's Day and the answer was supposedly 13,000,000. That's an awful lot of happy folk around the world!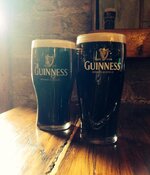 To get the music going, here's a truly classic track from The Pogues...