After 5 years away, during which time I discovered I really missed it, I've taken the plunge and jumped back into the world of football management. Not since the heady days of taking such players as Tonton Zola Moukoko, Andriy Sigporsson and Mark Kerr from relative obscurity to Champions League winners, have I felt such excitement towards the start of a new season. Welcome to the new Boro Manager, Hew Jarse.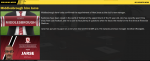 Jarse is hugely experienced and brings such skills as excessive tea drinking, mastery of laziness and an absolute stone cold belief in his ability to turn good players into mediocre ones. It promises to be an interesting season.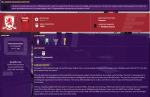 First order of business is to get the Director of Football fulfilled and sack Robbie Keane, then onwards to meet the players.