Afternoon all, I'm sure we're all looking forward to the weekend and getting ready to put our foot through the TV on Sunday when we almost certainly take Senegal too lightly and end up getting beat.
To help ease us towards that heartbreaking point I'll be indulging in a beer or two in my very own man space... all welcome of course and plenty of drink too.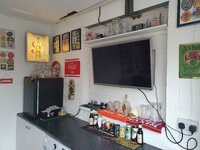 Until the inevitable defeat on Sunday, let's celebrate that we did better than the Germans again, have a great Friday and weekend folks and here's one for our German friends.