I'd probably leave it a few months...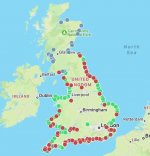 Each red dot is a legalised release of untreated sewage, TODAY 06:30am.
Each grey dot is where the monitoring systems are under maintenance and the alerts are switched off.
Source is
"Surfers Against Sewage"
The good ship United Kingdom is adrift is a sea of turds navigated by a bunch of uncaring profiteers and incompetents.