Norwich vs Middlesbrough - Match Preview 30th January - Kick off 12:30
by Newyddion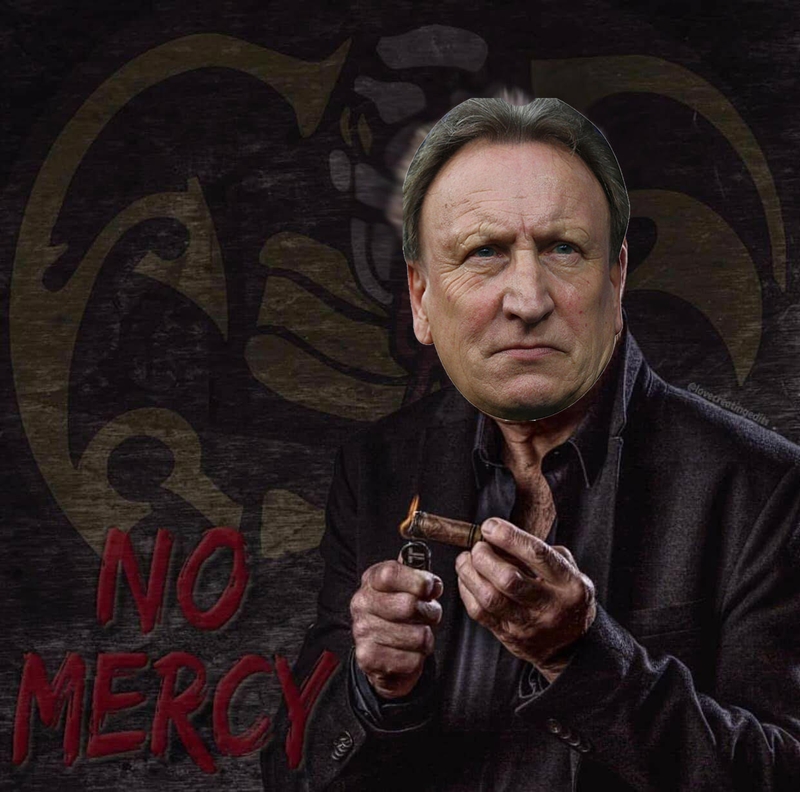 We've had a right laugh first half of the season, getting to know each other, swapping stories, nicking points here there and everywhere. Learning how to be a professional footballer, Michelin star quality food prepared upon request all in the country manor setting of Rockliffe Hall.
As the dust settles from the Rotherham game Neil Warnock picks up the phone and makes the call he always knew he would have to make. "Yannick, it's time" Yannick Bolasie with his bag already packed marches immediately to the door. Next call, "Darnell" ("yes gaffa") he drops his kit and sprints to the car.
Early morning meet up before breakfast Neil explains to the full squad that poachies are off the menu "awww gaffer," says Spence only to be met with a dismissive stare from Sam Morsy, he's been here before. Sam goes to the canteen and comes back with three hard boiled eggs on a stainless steel tray, he grits his teeth as he peels the shells and devours the contents, he sniffs and gestures with his head for the other to follows suit.
A change is a foot, Kevin Blackwell moves with intent across the room and shouts in a booming voice "TO
BE
HARD, YOU'VE GOT TO
EAT
HARD" with that, a noise of a scraping and a clunk comes from the back of the room, a mysterious cloaked figure moves closer, grunting with every laboured step. Warnock incensed pulls back the hood to reveal Dael Fry's grotesquely disfigured face, it seems as if he's constructed some sort of protective mask from a box of Strongbow Dark Fruit, it covers none of the stitches and seems to be doing more harm than good. Dael grunts and shuffles as Spence pipes up again "but gaffa, gaffa, what if Grant Hanley puts his boot to what's left of his face gaffa?" Dael grins, or at least contorts his mouth in such a fashion to indicate pleasure. Neil pats him on the back "this is supposed to be a catholic club.. we don't pull out of anything."
Without doubt the hardest game of the season for us, Norwich are not so much smashing the league this season but are relentlessly crushing the league, grinding out results. They have quality in abundance, they'll make 5 substitutions like clock work and be able to bring on 5 quality players. Solid at the back, quality in midfield and goalscorers up front. But they can be beaten.. they don't like it up em! This is a game perfectly suited for Warnock and a smattering of the dark arts. It's no coincidence that Norwich's defeats this season have coincided with a huge haul of yellow cards for both sides. The sort of game suited to banks of four and some good old fashioned ruff and tumble,
At the back they have barcode Tim Krul, a quality keeper, ticks all the boxes, but he has been on the slide this season unbeknown to his team mates, keep the shots fast and low and we might just break him.. another chance for Paddy McNair's new fast low driven free kicks perhaps?
Grant Hanley and Ben Gibson have both been outstanding at the back, their whole back four have been immense. Saying that the quality of the Championship attackers isn't exactly top drawer, a bit of false confidence may have set it. I wouldn't fance dealing with the likes of Spence, Watmore and Bolasie coming at me with pace. Both Ben and Grant will have to be at the top of their game in and around the box to stop them dribbling at pace.
I do think pushing Spence further up the pitch may make better use of his talents and I'm sure the sky sports cameras will add an extra gear to his game, not to mention the addition actual footballer Yannick Bolasie, as a young lad he's not going to want to show himself up on the tele or in front of the real deal, the same goes for Britt he's not going into the changing rooms at half time looking like chump change in front of the new guy.. unless he fancies a spell in Turkey.
I wouldn't be surprised to see Sam Morsy programmed to set his sights on Emiliano Buendía, constantly picking away, whispering, niggling, draining his soul. George Saville has been a little quiet recently but I think this sort of game will suit him down to the ground. The need for five really strong substitutions in this game and a very rigid formation may see Jonny Howson start on the bench. Young striker with a short fuse Adam Idah will be tested to the max with Darnell Fisher. Thankfully the constantly falling tumbing amateur dark arts dabbler Jordan Hugill will be missing from the game through injury. Guaranteed to score against us adds a bit of toughness and would distract our agents of destruction from their main objectives.
Marcus Betinelli.. give him the change kit! Distract and confuse. I for one think that the pink and blue keeper kit is immense, bought it soon as it came out and have been disappointed to only see it twice this season.
Prediction:
We need to go to the darkside on this one, first name on the team sheet is Sam Morsy, Fisher, straight in, Fry back with a vengeance (in a mask) , Bolasie to start. Teemu Pukki will be a handful, if we can contain him and keep Betinelli's legs shut.. we might just stand a chance. They have quality for days, but we went toe to toe with them at the Riverside and only just missed out, this match will be controlled by yellow cards in my opinion.
The 2nd half of the season has started, pain does not exist in this dojo does it?
Strike first, strike hard.. sweep the leg.
Norwich 0 – 1 (pen) Middlesbrough


Newyddion's XI
------------------Betinelli--------------
Fisher--------Fry--McNair------Bola
---------—Morsy--Saville------------
----Spence—Watmore---Bolasie---
------------------Britt-------------------
Subs:
60/65min
Howson for Morsy
Wing for Watmore
Johnson for Bolasie
75/80min
Akpom for Britt
Hall for Fry