Commerce House the old Bank on the corner is behind the renovation - the buildings will be linked to the rear. It will be retail downstairs and office upstairs. Timed to coincide with the next phase of the Railway Station works - the old Cornerhouse is being converted into two office spaces (already taken) but externally it will retain all the old features and in fact have bottle green window frames, as a nod back to Winterschadens wine merchants that was based here for many, many years.
There will also be a new station entrance directly off Zetland Road. The tunnel entrance from Bridge Street will continue straight through and under the station to Zetland Road, with sliding glass doors.
There are a couple more phases of work on the station including increasing capacity to double the trains to Newcastle and for increased traffic to London. A new passenger platform to the rear of the station will be built.
Building work is already under way as you can see by the scaffolding.
Have you noticed that the old Slam nightclub has now been demolished. The plan isto open up the renovated Exchange Square from both sides of the A66 and to have a performance stage area - this is already in demand, several events are already in the pipeline here.
Noticed the demolition.

Cant wait for the station to get started in ernest - its going to be a real transformation.
Its what the town needs.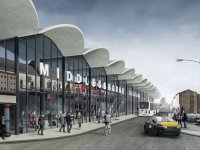 Also - if you go to the furthest east along platform 2 - you can see where work has already begun on the renewed platform edging for platform 3.
Presumably the Nunthorpe / Whitby service will use that platform?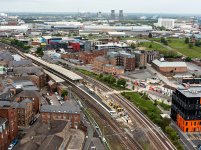 Last edited: