Afternoon folks, hope it's been a good week for all. Three points against Watford last week were very welcome, especially after the disappointment of the Mackem game. Great performance and a well deserved three points plus the subsequent additions of both Dan Barlaser and Aaron Ramsay should hopefully help us stay very much in the play off picture at least for the rest of the season. Three points at home to Blackpool tomorrow would be a great way to cement ourselves in there.
Anyhoooo... It's the weekend or just about anyway, so get us started I can recommend a fantastic local porter if you're into that stuff. It's a very, very nice drink and on the rare occasion I see it on tap I always indulge in a pint. I give you the very lovely Ouseburn Porter.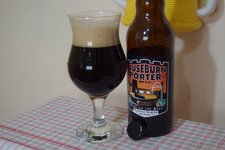 As we're playing Blackpool tomorrow I thought I'd stick a track from The Cure on to get us underway given that Robert Smith was born there. For a double whammy, it's Friday and I'm in love (with Michael Carrick, but don't tell the Mrs!!!)
Happy weekend folks.