This post and thread is long! But could save you a fortune!
Whistle stop summary;
Wholesale prices for oil and gas have dropped but the price cap in place today factors in long term pricing so is much higher than wholesale. This tariff lets you pay wholesale prices.
Supplier octopus offers you £50 to join them, and you join them at the standard tariff which most the country is now on, meaning you don't gain or lose anything other than the £50 bonus.
Once you join them, you can request to join an octopus Tracker - which is significantly cheaper than the tariffs on the price cap. It's about 50%+ cheaper than the current price cap, and 30-35% cheaper than the new July cap coming soon.
Prices can go up but you can leave the tracker with 2 weeks notice and people will boost this thread if anything happens with prices but they're forecast to go down, not up.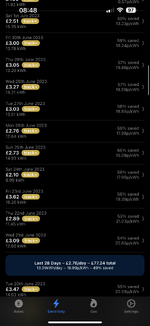 Look at the % saved - that is against the standard tariff.
** AS of July 1st, signups are currently OPEN - this can change at any time and Martin Lewis recently pushed this so if they get a glut, they might close it to new members again **



The below info is a bit out of date - as of 15/7 unit rates are 3.6p gas and 11.5p elec - mad savings.elec tomorrow us just over 8p, but typical rates are about 14p which is still have of the NEW july price cap
My unit rates were elec 32.25p and gas 10.21p so todays price is a saving of 5.2p on elec and 3.22p per unit on gas

Yesterday we used 11.99kwh elec and 63.79kwh gas so this has saved us 62p on the elec and £2.05 on gas

Will average out some over the month but if it stayed roughly at those levels that would be £19.22 saved on elec over a month and £63.55 on gas

Obviously unit rates will fluctuate but looking at historic prices and doing these figures it's looking like a good move for now.
HOW TO JOIN
Are you already with Octopus?
If yes, then tweet them and tell them you'd like to join the Tracker. You can phone them or email them too but I find tweeting easiest.
If you aren't with octopus already, then it is easy to do - if you havent switched before, the supplier does all the legwork for you. Ideally you will need your annual usaage - that should be on your most recent bill.
1) Switch to octopus on the standard EPG/SVR tariff. You can do that here: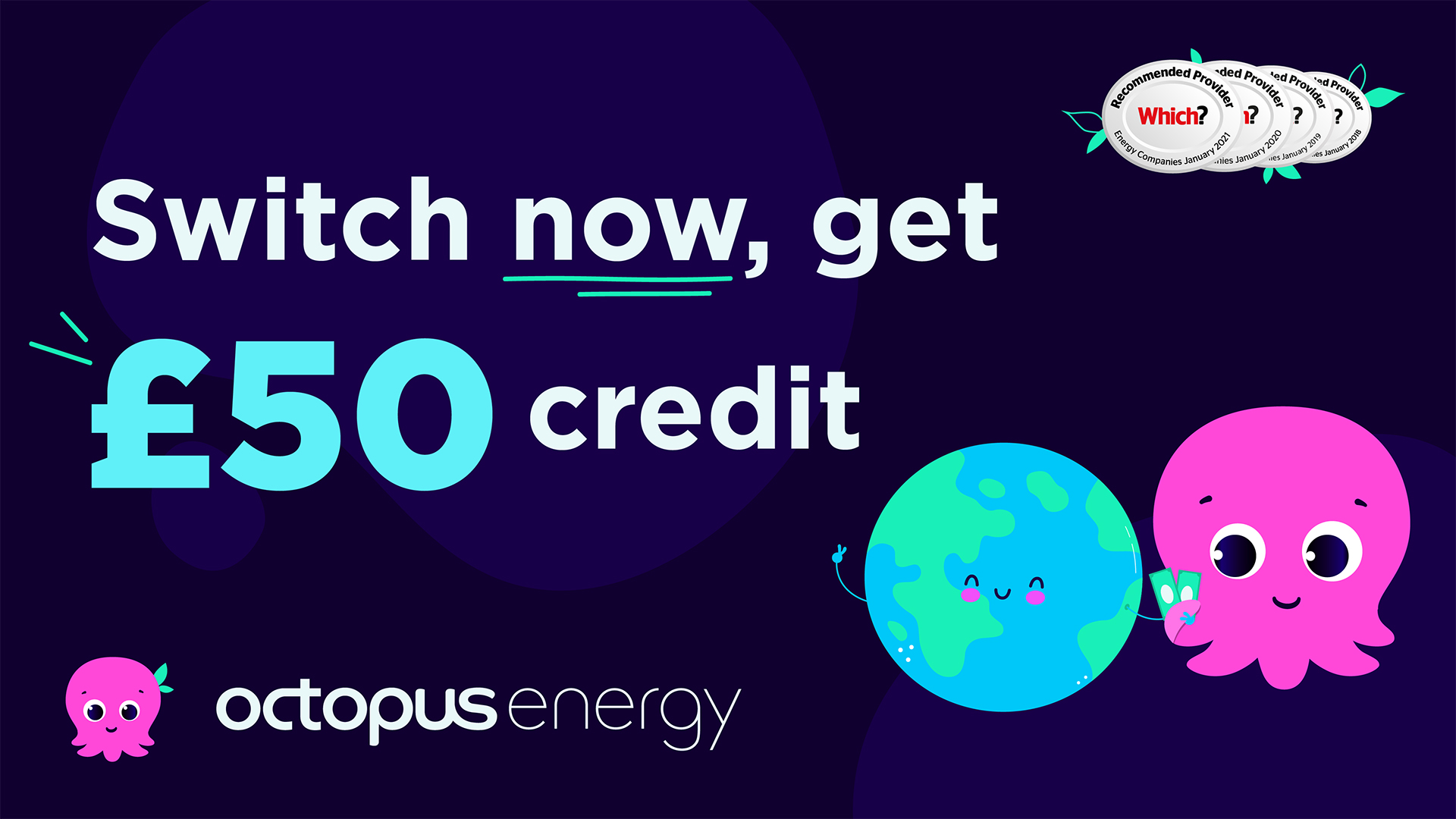 The UK's most awarded energy supplier. We're doing energy better - for you and the environment.

share.octopus.energy
This will switch you at the standard price cap rate, same as everyone else is charging and you will also get £50 credit for joining.
2) Once you join octopus (they will email you to keep you updated), contact them by twitter, email or phone and ask to join the tracker. Again, twitter is fastest.
3) they'll let you know once this is done.
You can switch back to standard tariff at any time should prices rocket. It takes approx a week or so to switch back, but once you are off the tracker you cant rejoin for 9 months - so be aware of that.

Questions!
Do I need a smart meter?
It helps but if you don't have one, they'll still put you on it but use an average figure each month. A smart meter can provide reads daily or even half hourly so you always know what you've spent but it's not necessary
Can I end up paying more?
Technically yes but you'd have to see a huge unit price increase and arguably we're coming to the end of the cold period so I think has prices will drop further but even if they do go up, you've got the buffer of the discount, the £50 credit and the epg discount to protect you, they'd need to go to record levels
Prices cap went down in July, Is it still worth doing?
Massively yes - it is so much cheaper than the price cap.
How long does it take to switch?
About 3 days
How can I track the rates?
You can;
1. Use the octopus app / website
2. Use an app like Octo-aid if on iOS, or octopus watch is on iOS and android but costs 1.99 - this shows you the percentage daily saves vs price cap but has a few less features than octo watch. Octopus compare is another android app
3. Set up iOS alerts
4. Use
http://mysmartenergy.uk/Tracker/North-East-England
(or the appropriate page if not in the NE)
5. use this google sheets spreadsheet:
https://docs.google.com/spreadsheet...lRIXTYL3yNuJ0zicqqoGLprOCdNbSs#gid=1855828871
6. Set up discord notifications - just google octopus tracker discord notifications
7. Use telegram -
https://t.me/+5zuBZJvLWvw5M2E0
Is my IHD/ the lcd display I've got in my house accurate?
No - the usage in kWh will be accurate but not the £ values as it can't cope with the daily price changes. You can track usage with octopus app, octo aid, octo watch and others. You can also request a free octopus mini, a small usb stick sized device that sends readings to octopus via the app, it also gives you access to near live elec data with 5-10 second lag.
There is a waiting list so make sure you request as soon as you join
The Octopus Home Mini is a brand new, cutting-edge bit of tech that makes understanding your energy usage easier than ever before.

octopus.energy
How do I set up app alerts on iOS?
iOS Shortcut to Get Daily Notifications of Tracker Prices. Unfortunately not aware of anything similar for android but will keep looking, You'll get alerts that look like this: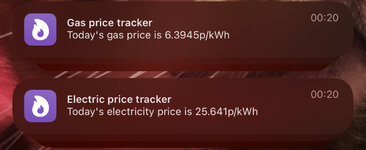 For anyone interested in being notified of tracker prices, there are 2 iOS shortcuts (which use the Apple Shortcuts app) that you can add to your phone and set up a simple automation that gives you a notification of the daily tracker gas and electricity prices.
Gas icloud.com/shortcuts/f5e2b9aa94964f4da0513b3ddaa4edee
Electric icloud.com/shortcuts/f3ce2ba605a34794b2a5d726f0d11d25
Once you add these two shortcuts to your shortcuts app, you can do the following:
1. Click on the "Automations" tab
2. Click the + at the top right corner and select "create personal automation"
3. Select "time of day" which is the first option
4. Choose the time of day (put the time as 10 minutes from now so you can check it works when done and then you can change it after testing) and how often you want it repeated - I chose 8am daily but you can change it any time.
5. Click "next" and in the search bar at the bottom type "run shortcut" and select it
6. Now you will see the words "Run Shortcut" at the top with "Shortcut" written in blue
7. Click on that blue font "Shortcut" text and scroll down the list until you find "Gas price tracker" and then click "next"
8. Toggle off the option which says "ask before running" and then select done
Now you can close the app and if you remember what time you set the automation to run, you can wait until that time to make sure it works and the notification of today's gas price comes to your phone.
Now you can repeat the same steps above if you want the same automation for electricity daily prices.
By default, the URL used in the shortcut will not be for your region, there is a single letter code for each region, so you will need to open the shortcut by clicking on the 3 dots for each shortcut icon and edit the letter that appears before /daily in the URL to whichever region you're in.
This is an example of the URL that you will see when you open the shortcut to edit it:
https://octopus.energy/api/v1/tracker/G-1R-SILVER-FLEX-22-11-25-F/daily/current/
By default it will say F/daily in the URL, I changed mine to A/daily as my region is North East of England. If you don't live in the NE Google octopus DNO regions and use the right letter!
You can see what letter your region needs in the attached screenshot.
Hope that helps!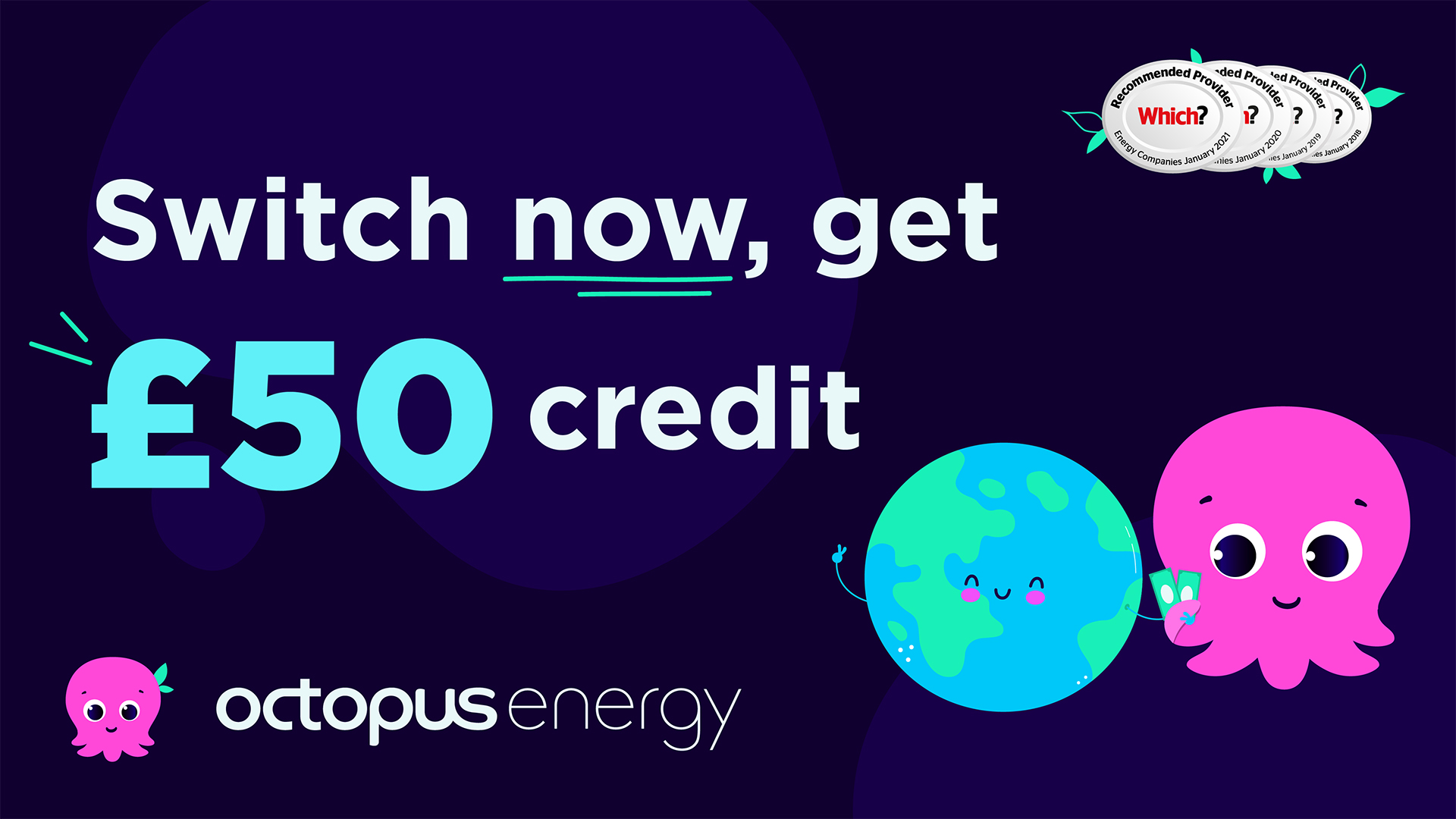 The UK's most awarded energy supplier. We're doing energy better - for you and the environment.

share.octopus.energy
Link again - we'll each get £50 credit by joining with a referral link.
If you get stuck either DM me or ask in the thread.
Last edited: