Just before the last but one lockdown, there have been so many, in late 2020, I was invited for a hike across the moors with Bernie Slaven. It was a glorious day with wonderful views and being the very day when the first vaccine was given the green light it seemed a day for optimism. At long last.

The long march across Greenhow moor give us chance to look back over Bernie's career as well as a vista over the vale of Cleveland. His new publication Slaven Snaps had recently gone on sale. It is a book that started from a lockdown loft clear out and tells in photos and documents the story of Bernie's footballing career at Middlesbrough.
Fly: You obviously have a big loft. With an awful lot of stuff in it.

BS:
Not really, I live in a bungalow. I haven't really got a big loft but whatever I have got is jammed to the rafters. I am a hoarder. People think I am just a former Middlesbrough player but I am a former Middlesbrough hoarder.
Fly: Are you a hoarder or a collector?

BS:
No, I am a hoarder.
I have collected all the programmes of when I played. Programmes way beyond and after me. Cup finals. UEFA Cup finals, they were glory days. I have kept everything. Paper cuttings from my late father when Celtic won the European Cup in 67.
Fly: So, your father was a big Celtic fan, then?
BS: Massive. He was the guy that introduced me to football. Without his influence I don't think I would have become a footballer. He took me there as a kid, sat me on a wall at Parkhead. He would leave me with a bag of sweets. I didn't understand the game. I was probably only 4 or 5. You wouldn't see your father until the end of the game. There would be about 80 000 there at that time. So, you would just sit there with your sweets. You wouldn't really watch the game, you would be watching everything else and then your father would come and collect you at the end of the game and take you home. That influenced me to watch football.
Fly: It must have been a helluva an atmosphere.

BS:
Oh without a doubt. 80 000. And I was 7 years old when Celtic won the European Cup. My father went to Lisbon and when he returned he said when the players return they are doing a lap of honour around Parkhead. So there was another 80-90 000 just to see them going round in the back of an old coal truck. They decorated it green and white and they had the European Cup.
So, as a kid, I was watching this team that I support lifting the European Cup which was wow. Then I was fortunate when I was 11 to go and see Celtic play Feyenoord in the San Siro, my father took me. When they beat the great Leeds United team I was at Hampden Park, the semi final and my late father had promised me that if Celtic beat Leeds which was a difficult task because Leeds were top drawer (he promised to take Bernie to the final). Celtic went to Elland Road, they beat Leeds 1-0 I think, my father went and then they came to Hampden and Celtic beat them 2-1. So he kept his promise and took me to the San Siro. Celtic unfortunately got beat, that was 70. I think we were beaten in extra time. But great memories as a kid.
Fly: Travelling abroad watching your team as a youngster must have been amazing.

BS:
San Siro, I always remember there weren't seats. It was like concrete steps. I was so small I couldn't step down them, they were so big. But again 7 years old did I really understand it, probably not. But it was a great memory. Seeing Leeds United. I think there was 146 000 at Hampden Park, Celtic v Leeds. I think it was a European record. Incredible. Squashed like a sardine.
Fly: Basically that is the population of Middlesbrough in one stadium.

BS:
It is mind blowing when you look at it and analyse it.
Fly: You were part of a crowd that nowadays you could only compare to Glastonbury or a festival, I suppose.

BS:
Exactly, yes. Incredible. So, that was a good grooming for football.
Fly: You mentioned the Lisbon Lions. There is an obvious link to Middlesbrough in Bobby Murdoch.

BS:
Yes, Bobby Murdoch my late father's favourite player of all time was Bobby Murdoch. He would say that he was the greatest player he had ever seen. He played a part when I was talking about coming to Middlesbrough. My mother went to church in Glasgow and so did Bobby Murdoch's mother. I wasn't aware of this at the time. And my mother came in this night, when there was talk about me coming to Middlesbrough on trial and she said I spoke to Bobby Murdoch's mother, I know Bobby played down there. I said, I was aware of that. She said there's his number, you are to phone him. And I was thinking, phone Bobby Murdoch, legend, Celtic, European Cup, I am 20 odd at the time but I am thinking I cannae phone him.
I remember phoning him and saying my mother met your mother at church, I am Bernie Slaven I am going to Middlesbrough, I believe you managed and played there, how good is it? is it nice? And he praised the people and praised the town; he told me he used to live near Marton Country Club in a row of houses near the park. He persuaded me as well, he encouraged me to go and try it.
As I say he was my late father's favourite player, obviously he came to Middlesbrough and had a great first season. Then he went into management but it didn't really work out. But he was a great guy. He was a straight talker.
Fly: I had just started as a season ticket holder and Bobby Murdoch was just brilliant on the pitch and probably helped Graeme Souness greatly to be such a good player.

BS:
I think Souness says that. He has praised him over the years. And Big Jack, God rest him, he had met Jock (Stein) at a dinner and quizzed him about Bobby Murdoch and seemingly Jock said if you look after him I will give you him. Middlesbrough got him for next to nothing.
Fly: Yes, a free transfer. Bobby's passing skills were amazing and his vision too.

BS:
They used to say that he could ping a ball and if he needed it to pick up a bit of pace or it would come back to the player, they painted this picture of his passing..
Fly: So, back in the first lockdown you went up into your loft. Are you thinking I need to do a few jobs here around the house?

BS:
I did a load of jobs. I started off laying concrete base around the back, building an extension. I was doing a bit of gardening etc and then I thought the loft needs cleaning. So, I have been up there on and off through the pandemic. I find things that I have never seen before, or read things that I have never read before. Pretty intriguing.
Fly: At what point did you think, there is some material here I could pull together.. an interesting collection?

BS:
I am a lover of pictures. Andy Warhol, I remember his quote and I have it in the book, where he said, "I don't read, I just look at pictures." That is me. I know I have written books and done books for years. I go through books but I could probably say I have never read a book from beginning to end, not because I am not illiterate but I have not got the patience.
Sometimes when I was younger I would come to a word that I didn't know and obviously now you go to your phone but when I was a boy, it used to be, don't know what it means and it used to put me off the whole story. So, I never got into reading. My Mrs reads and my pals read but I've never really been into it.
But I have always been intrigued by pictures. I have seen pictures over the years in Boro books that I have got in the house and the walls at the Riverside and Ayresome. The late, great Wilf Mannion and Clough. And I have always looked at the black and white pictures and thought. Wow, how good are they? There is one of Peacock in v necked top, posed in training, on one leg, hitting the ball and I think what a picture that is. And I have always been attracted to pictures, not just of myself but everybody but black and white I have always been intrigued with.
So, when I have been up there, scouring, looking at thousands of pictures I had to select. But the difficult thing is selecting. When I was picking pictures of my career I am having to get them in sync. In order of seasons, I have tried my best to do that. There a lot of pictures of myself but also a lot of team pictures, promotion pictures. You think back, they are nostalgic, Oh I remember that. You'll look at it as a fan you have probably seen some before but some of them you might never have seen. I have put contracts in there. I think that is intriguing. It is like me being a fan of Morrissey. I would like to see him behind the scenes rather than on the stage because I have seen him on it. I want to see what he does behind, where he goes, that would intrigue me. So, I thought instead of just pictures why don't I throw contracts in. So, every contract with Middlesbrough is in there. I put in bonus sheets. Some of them are unrealistic we were never going to hit them in a millions years. But just to see what the fans think now because everything is now documented with so and so's on £40k a week or so and so's getting £30 grand a week. Look at what we were on. I never played in 1920. I stopped playing in 92, it is not 100 years ago. It is not black and white tv and all that. And I played in the Premier League, where they play now. You look what I was on and look what the modern player is on now. It is incredible. The difference. And as I say I am all for the modern player getting it and doing the business. Too many are getting it and not doing the business. Yes, I think that is an eye opener for a lot of people.
And I have got some programmes there again I am a hoarder. When we toured in America I collected all the programmes. I didn't even know I had them. I was thinking Calgary Kickers, who are they? Honestly. Because I probably just shoved them in my bag and they are all in mint condition, I have probably never even looked at them.
Fly: So, you put the programme in your kit bag?

BS:
Every game I would go to. Some of the lads would read the programme before the game. I wouldn't do that. I would get the programme, put it in my bag, get home and throw it in the loft, whatever house I was in. Not even look at them. No interest really. Then as the years have rolled on and you have got more time on your hands start sieving through these things. Then you find you have about ten from the same match, you know I have about four from Eindhoven and five from Wembley, when we played. I always collect more than I do because in my head I think I could give that to so and so, he might want one. Do you understand?
Fly: It almost sounds like you are describing a Bernie Slaven annual or scrapbook.

BS:
It's a scrapbook thing. I have got over a hundred scrapbooks. Again I probably didn't read them, I cut and put them in. My parents probably did it before me and I have just kept every one, from Albion Rovers. The first that ever told me to get scrapbooks was a guy called Bobby Houston, he played for Greenock Morton. He had played for Partick Thistle, he was a winger, good player. And it was a reserve game for Morton and he was coming back from injury and I was a reserve player. So I was passing the ball in the warm up. And as is he is passing he said "do you keep scrapbooks?" I was about 18 at the time. And as I was passing the ball back and I was saying howay Badger (his nickname was Badger) I am from Castlemilk I don't keep scrapbooks what a load of old rubbish.
He went no listen, a bit of advice, down the line you might have a family and you might have boys who love football and it would be good for them, forget about yourself it will be good for them. And I thought.. do you know what. And I kept scrapbooks after that.
And I met him about 6 months ago in Glasgow. My mate knows him now and he introduced him and I got a picture with him. And he phoned me a couple of times through the pandemic and I had not seen him for years and it was his influence to keep scrapbooks. Now I have all the dates, the games, whatever. So, yes that is good thing keeping scrapbooks.
Fly: My band Shrug put on an exhibition for our 20th anniversary and we put loads of photos and letters on the walls of an empty shop unit. More recent bands told us they would not be able to do that now in the same way as they receive emails not letters. And that could be the same for you with the recent decline of newspapers and sports pages, so much is now online. The golden age of scrapbooks may have passed.

BS:
No, you are right.
Fly: And the modern player contract would probably be a book in itself.

BS:
Yes, yes.
There are letters in the book also. Bruce Rioch fining me for not shaving, imagine that now. Getting fined for not getting on the plane to Bermuda (Bernie had a phobia of flying). It would be classed now as mental health and I was getting fined. So, I was getting double mental health issues. Nobody looked at it sympathetically.
That is part of my hoarding side.
I am like a fan myself. People criticise me because I am opinionated, I can have a go at people, games and teams at Middlesbrough. If I wasn't a fan I wouldn't be keeping all this I would class it as crap and throw it in the bin. But no I've collected everything.
I have got all my home shirts. And I had to actually go and buy one of my own back. Which is mine. I paid a few bob for it. My misses was going, are you off your head. But I just wanted the final shirt that goes with my Middlesbrough career because I cherish it so much. And I am so grateful.
Fly: We are both hoarders/collectors.

BS:
Weirdos.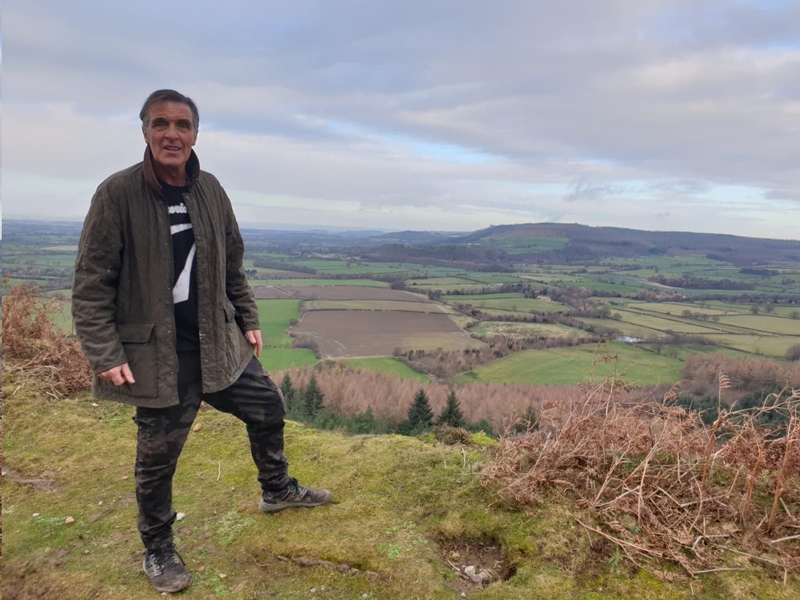 Fly: And we have a manager now in Neil Warnock who really wanted to get to 1500 matches as manager. It was really important to him. He is maybe of the same ilk as well.

BS:
Without a doubt. I have one stigma with Middlesbrough. People say I scored 146 but I did score 147 and so I only needed three more goals to get to 150. I wish I could have. Just let me score 3 more goals. I am sure everyone has got a wee thing like that.
Fly: After a match a striker is interviewed about scoring a goal and he says he is only bothered about the team and the team winning not his goals.

BS:
If a striker answers like that he is not a real striker or he is a liar. You have just scored a hat trick, you are delighted.
Fly: Harry Kane would always talk about his goals as well as the team.

BS:
Harry Kane is a great striker and he is a lovely man. But I am sure.. back in my day you did do it for the team because you could get a hat trick, you get beat 4-3 and don't get bonus money. We needed bonus money. Today you don't need that. So, I would get called names for getting caught offside but hey you got us an £250 extra. We relied on that.
Fly: So, that game away at Coventry where you and Dave Speedie both scored hat tricks but we won 4-3.

BS:
Mark Burke got the winner.
Fly: Their players would not have got their win bonus.

BS:
No. So, would I want a hat trick and help the team to a bonus? Too right because I am part of the bonus. It is double barrel. But now you don't need the bonus money, we needed it back then.
Fly: I suppose it could happen again outside the Premier League as money is falling dramatically. That could be one of the factors allowing Neil Warnock to get players to sign contract extensions. He can say to those players, money is dropping and you won't get your present rate again.

BS:
During the pandemic I think clubs have obviously been hindered through lack of finance and crowds and hospitality. But it is a good time to get players to stay and Warnock has signed with three or four already with more to come. So, he has seen the window of opportunity for the club. Listen, if I get these tied down, I can say, the climate is poor, there is no money about. There are players that Middlesbrough has let go, thought they were guaranteed to get a club, they have not got a club. So you are not guaranteed, so do you want to sign this on less money.. happy days.
Fly: And he is leaving some kind of legacy.

BS:
Without a doubt.
Fly: Because managers are here for such a short time now.

BS:
In the dressing room I am sure the players that are playing are loving him at the minute. The only thing is if I was signing I would be saying you want me to sign a couple of years contract. Are you going to be here in a couple of years? Are you signing the same contract as me because I like you. It would be one of them for me, I might be cagey and say I don't think you will be here next year. So I will sign one year to go with you.
But it is a safeguard for the club and the player it is a bit of security for both. Just because they have signed a contract very few will see them through they will be gone. That's the reality. I used to do a bit for Tyne Tees and people would say to me will Ravanelli get more goals than you? I would say if course he won't. Because he will be gone. That is the reality of the modern player. I know we have a few like George Friend but they are few and far between now. They are mostly fly by nights.
Fly: I know you don't live too close to Hurworth but you haven't seen a Middlesbrough manager cycling past have you?

BS:
Oh no. They would probably run him over because they don't like cyclists up where I live, there are millions of them. I despise cyclists. So, Neil beware, don't come near me.
Fly: And you are not a fisherman, are you?

BS:
I definitely don't eat fish and I don't catch fish. And I think it would be boring sitting there all day until your line moves and then you get all excited and then you let it back in. I don't get all that.
But Warnock is warm. He is a character. He is engaging to the public. He talks layman's terms. He has been in the game a long, long time. Longevity is a big thing. He has obviously got something. But he has got personality and that goes a long way. Man management skills I don't even think it is open to debate. Would I personally like to play for him? Probably, I would like him to have a go at me and me have a go back at him, boot me up the backside, I quite like that in a perverse way. But I don't know if I would like to play the style and the brand. Again it is one upfront. Defend, defend and nick a goal. Karanka, Pulis. No. no. Probably would like a more free flowing manager.
But Warnock is not that, that is what he is and he has done it very well and he is good at it and he is doing brilliant at the minute.
Fly: Interesting that some of our most successful sides in Boro's history have been disciplined sides.

Bruce Rioch or going back to Jack Charlton. Rigid systems.

BS:
I played under Jack Charlton, God rest him, his was long ball, squeeze up. Push out.
Fly: There was a great player here before Jack Charlton in Eric McMordie but he didn't fit into his system and Bobby Murdoch came in..

BS:
Yes. Look at Big Jack when we were going to the World Cup 90, with 22 players, he dropped Liam Brady. Liam Brady! He could pick my lock with his left foot. He never took him. And I look at Brady. And look at Patrick Roberts, he is a good footballer but I look and think why he is not getting a regular place. My opinion is he takes chances. Warnock as a defensive coach doesn't want chances. That's why he ain't in the team and that's why Brady never played under Jack. Like it or lump it.
People say why has he brought him in? He could be an impact player. He played him in those last games in the summer and he helped us stay up when the pressure was on. There is no pressure at the minute. We are going along nicely. We don't need to win. Grind out a draw, get the odd victory. So, for me Roberts is a bit like the Jack thing with Brady, that is his style of management and he will live and die with it.
Fly: I am just so relieved we didn't go down because it is no time to be in the third tier with wage caps etc.

BS:
No. Some of the clubs will disappear into oblivion. I think it is just a matter of time. Pray God it doesn't happen but I think it is going to happen. We are seeing shops shutting down left, right and centre, everybody is struggling, the economy is crashing. And nobody can do anything about it. It is brutal isn't it? I feel for the people in the clubs but also the fans as well. This is escapism. They have been locked up for how many months and they are facing their clubs going out of business and struggling financially. Terrible. Terrible.
Fly: Are you looking forward to that day when we can all go back to the Riverside.

BS:
Oh without a doubt. I work in the lounges and I have only done one game this season. It was an experiment with 50 staff. A couple of the lads did the next two games. Then that was it, pulled again. We were meant to be back this month but we will have to wait and see because in Tier 3 we won't be coming back. Awful but there's no reason or rhyme. People blame the government but I don't blame anyone because nobody has ever suffered this. We don't know what we are doing.
When I did the lounge it was a home game. So I am in a lounge watching two screens along with 50 people and the game's outside. That is like teasing. It is like somebody stripping behind the curtains and saying you cannot watch.
Fly: Let's hope it is a much better year next year.

BS:
Someone must have run over a dozen cats because it is the worst year in history but as I am talking to you now they have sanctioned the vaccine so that is great news. They are going to start by all accounts next week with the vulnerable and the elderly. So, good. I am excited. I am sure the world will open up again. We will be able to go where we want.
END