I've always enjoyed creating things for as long as I can remember but I had never allowed myself to consider that aspect of my life as something I could spend my day doing full-time.
My perspective on that gradually began to change after my Mum died of ovarian cancer in 2017. I went on sabbatical from my job as a primary school teacher and spent a year travelling as a way to reconcile the grief I was obviously going through and the growing sense that time on this earth is limited and that you have to experience life and make the most of it!
When I returned to the classroom, the pandemic struck not long after and it gave me even more time to ruminate on where I was going, who I was and who I perceived myself to be in all of this. All the while, my evenings and weekends were largely consumed by painting, but it was never quite enough. I eventually decided that, even if it was just temporarily, I had to leave teaching to pursue this passion of mine. I'm massively grateful to Emma (my girlfriend) because she gave, and continues to give, so much support to me throughout the whole decision process.
When it comes to selecting subjects I want to paint, I'm always drawn to the experience and memory of a place or the vibe of a person or a group of people. As a general rule, I have to be able to see myself in the paintings I begin – I like to remember being there first-hand because I think it helps convey an authenticity to the overall atmosphere. Basically, if it's nostalgic and local, I like it! The hope is always that the personal lens from which a chosen subject is seen from, connects to others (fellow Teessiders!) and that you can see yourself in them too.
I was a season ticket holder years ago – I used to go with my uncles (Kevin and Matthew) and Grandad Mitch would always be there at half time with a packet of boiled sweets hidden in his jacket pocket. I have to mention my Grandad when talking about my experience of going to see the Boro: he's a prolific songwriter whose written countless songs about the club (just search for 'Steve Gibson' from 'The Sound of the Riverside' album to name one of many!). I was attending home games fairly regularly right up until the pandemic hit: since it's all been back on, I'll confess now that I've only attended a small handful of matches. Perhaps that is precisely the inspiration and impetus behind the Bor themed art I've been creating, now that I think about it! Clearly, subconsciously, I've been missing that whole match-day experience and I think I've just been trying to replicate what it feels like to go to a game at the Riverside through my art.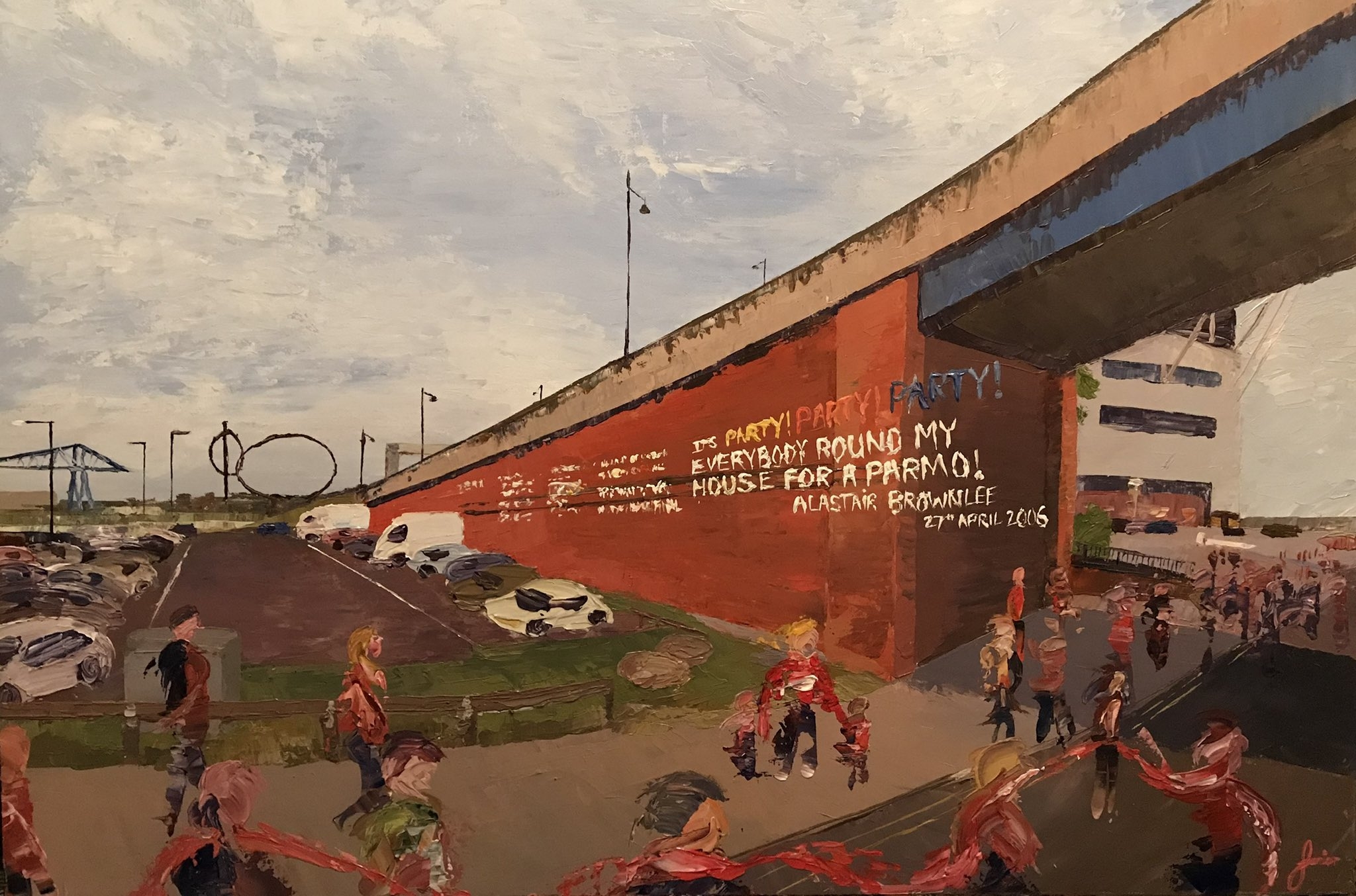 The exhibition will be held at Café Etch on 28TH January
– I'm massively grateful to Etch: they are extremely supportive and hosted my first exhibition in October last year. I'm in regular contact with them and they're always keen to promote local artists. The art will be on display throughout all of February, however, the opening evening is a real chance to come and see the art whilst enjoying a drink and a chat as we reminisce about the highs and lows of our great club. In addition to this, I will be selling tickets for a Bor oJackpot on the evening where you could win one of the pieces to take home after the exhibition!
Junior Durrani