Frontman of '90s band The Auteurs, solo artist, celebrated author Luke Haines has been asked to present his first ever art exhibition and it is right here, right now in Eston Arts Centre. The debut exhibition, Uncanny Island, features unique representations of Luke's childhood heroes, wrestlers as well as a Christmas Tree decorated and de3dicated to the late, great Mark E Smith and The Fall.
Don't miss the final opportunity to get along to the arts centre in the former Barclays Bank building in Eston Square.
I interviewed Luke about his work at his opening event in July.
Please have a read through his entertaining replies.
Q: Tell me about your passion for wrestling.
LH:
Well, it came about when my dad used to take me to the football when I must have been 9 or 10.
Q: Was that Portsmouth?
LH:
Portsmouth, yes.
And my dad wasn't that into the football but what he was into was the fighting on the terraces. So it was the old days at Fratton Park and we were in the stand. He would be kind of nudging me, look, brilliant, as there would be a massive scrap. And he wasn't a violent man at all, he was a civil servant. After that he took me to the wrestling. It wasn't until years later I made a connection. I don't think there was one, unless it was subconscious. Unless it was he liked fighting.
I wasn't that bothered. I thought fighting was a bit weird on the terraces and quite worrying.
Q: You would be quite young weren't you?
LH:
Yes, I was quite young.
And so I think my first bout was Giant Haystacks. And then Big Daddy and Kendo Nagasaki.
Q: Big names.
LH:
Really big names at the time and that would have probably been about 1978/79. That would be kind of the peak of the tv era, I think.
Q: You have a painting of Dickie Davies who introduced the wrestling on World Of Sport on a Saturday.
LH:
Of course, yes, 4 o'clock. With Kent Walton.
Q: Just before the final scores.
LH:
Yes, obviously a brilliant bit of timing. Because the whole of Britain has been waiting for the scores. And yes it was from there really and it was kind of pre pop. Before I was into rock music. And I thought these people seemed much bigger than rock stars. But there was something even more dangerous about them. Rock stars were just big on Top Of The Pops, these people fought and they looked absurd. Although I don't know if I thought they looked absurd. It was the point where I realised the campery that my interest fell off. Which was probably about 1982. It was towards the end.
Q: As you were growing up, as well.
LH:
Yes and by that time I had got into rock music and bands and things like that and then it seemed silly. And once things seem silly its not as good as when its a completely magical thing.
Q: So you would be there watching with all those grannies at the front.
LH:
Oh yes, yes.
Q: And they got really involved in the bouts, didn't they?
LH:
Yes and it was Portsmouth so it was a rough old thing. It would have been in the Guildhall. It was probably a Tuesday or Wednesday night. A few bouts. It seemed quite full at the time. It seemed very, very lively. And the whole place was full of smoke, I remember that. I remember my dad having a few pints, he wouldn't normally.. so it felt quite grown up. It had a bit of an edge to it. Even the grannies shouted, so it was a bit scary. But we thought it was all funny. I also thought it was weird. I thought Kendo Nagasaki was a very serious heavy guy, he was a proper dood.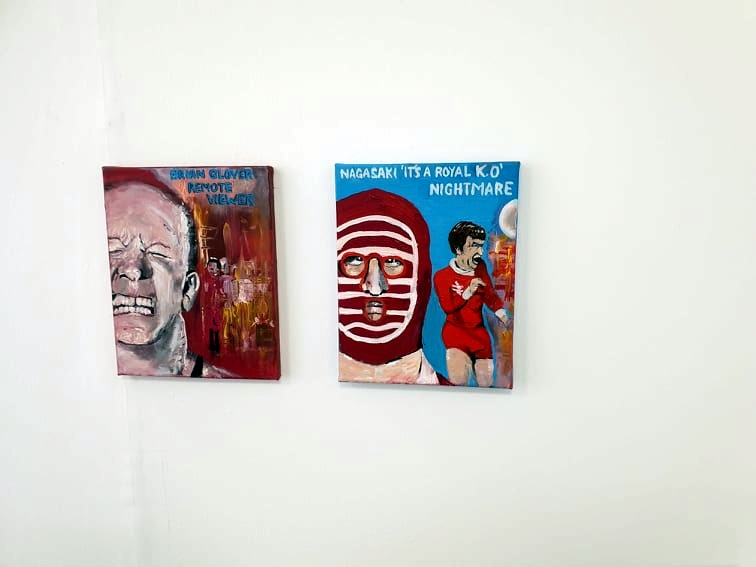 Q: What was under the mask?
LH:
What was under the mask, exactly. Yes. Will he ever be revealed.
Q: There was a sub plot wasn't there with so many of the wrestlers. Everyone was trying to take his mask off.
LH:
And he was revealed in Wolverhampton Civic Hall I believe. He has a strange oriental tattoo on his shaven head and there were two samurai and he was sat in a kind of hari kari position, like they were going to hand him his prayer letters, as he disembowelled himself, which I suppose it was in a way. A form of.
Q: How come all these years later you have revisited this with the exhibition? Has the painting been a passion all along?
LH:
Well I did an album called Nine and a Half Psychedelic Meditations on British Wrestling of the 1970s and early '80s. The idea just came to me to do it. So that is where the painting started again. I had been a crap art college student when I left school. I gave painting up but I started it again for that record and then it just sort of continued. But the wrestling guys are just really great to paint. You can do these guys with acrylics, it kind of works. It is just quite fast and lurid. Almost like posters.
Q: Which there would have been a lot of.
LH:
There would have been. I have got a few original ones at home. But yeah, that is why. When I was doing the album I was doing the paintings as well, so I was kind of in situ, just to kind to keep my mind focussed. I'm in wrestling mode now. For the next few months. Paint, wrestling, paint, music, that's it. That's where we are at in this house. You want to live with me, wife, kids... that kind of thing (laughs).
Q: But how come we are here in Eston at Eston Arts Centre, which is fantastic.
LH:
Because (artist) Neil McNally sent me an email as we went into the first lockdown, would you be up for an art exhibition? And I said, yeah. Let's do it.
No one else has asked me. And I hadn't really planned to do it.
Q: So Neil McNally must have known about your wrestling paintings?
LH:
Oh yeah I think Neil knows my stuff. And he just asked me. It was meant to be on a few months ago and then COVID did for it as it did for everything. So it was just that really.
Eston seems a perfect place for it. It is kind of very northern really.
Q: I wonder if there was ever wrestling opposite from here at the Miners Institute.
LH:
It is quite possible.
Middlesbrough certainly.
Q: Oh yes it was always on at Middlesbrough Town Hall. In fact the manager's office was always covered in big wrestling posters and pictures.
But I must ask you about your inclusion of The Fall Christmas Tree Baubles. Is that in contrast, or maybe not? Is it in contrast to the wrestling?
LH:
I don't think it is really. No, I think it is all the same kind of thing really. It is these strange people doing these other worldly things. Maybe they don't even know they are doing but it becomes other worldly. That is why it interests us because it is really weird people, which I love. The idea of The Fall. It is a bit self-mythology, him recruiting people but the idea of The Fall being avant garde hod carriers. These people are doing high art. Really high art and it is really mad. And some of the best stuff ever. The same people like this, like football, they like wrestling. There is no limit to it. It hasn't been co-opted into a middle ground either, which I think is quite good. And I hope I am not co-opting it in some way into a middle ground because you don't want to do that. You want to keep it hidden where it is. I don't want to be curating his stuff, is what I am saying. I just want to be celebrating it.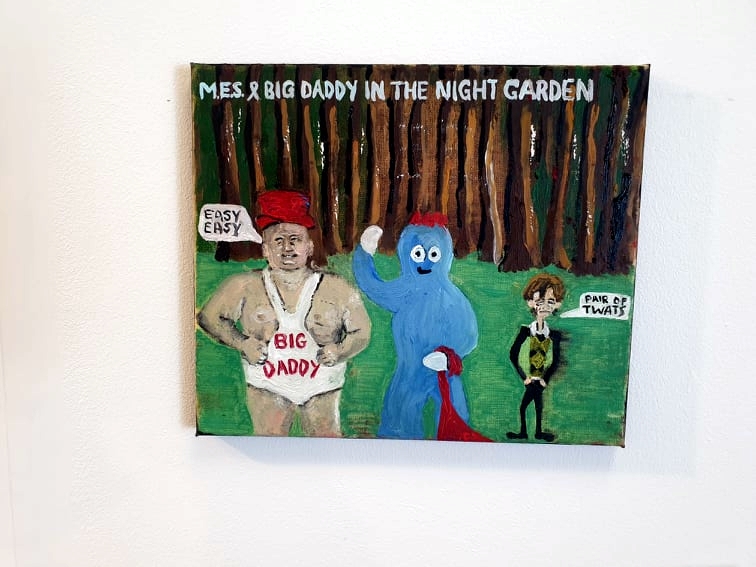 Q: I am sure Mark E Smith would love the idea.
LH:
I think he would hate it. (laughs)
Q: What do you think he would have thought about his portrait and bauble staring across at Dickie Davies.
LH:
He might have liked that.
Q: Dickie, without a Mallen Streak.
LH:
Well, a little bit. He is kind of...
Q: He looks very manic.
LH:
Yes, he looks a bit feral. Like a little rodent. (laughs)
Q: But Apocalypse Dickie was a key man wasn't he? He would introduce the wrestling on World of Sport with Kent Walton. It was an escape into a fantasy land. Your spread of white bread liver, paste sandwiches, wedges of cakes etc would be the sort of tea we had at my grandmas and grandads whilst watching the wrestling.
LH:
Oh yes, well we used to always have liver and sausage sandwich. And chocolate eclairs on Saturday night. That was our tea. With a big bowl of crisps.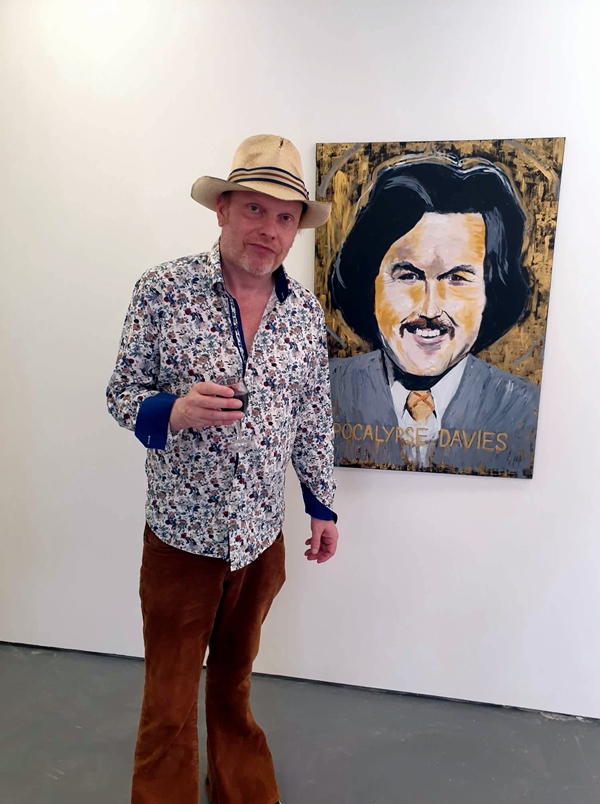 Q: With the wrestling on.
LH:
Yes. That was your Saturday tea. You had your horrible tea in the week and Saturday tea was probably cheaper to knock out than the horrible tea really.
Q: But it was special.
Thank you so much for bringing the exhibition to Teesside and Eston.


Uncanny Island is showing at Eston Arts Centre, the former Barclays Bank building on Eston Square until Saturday 31st July.


Final Opening Times

Thursday 10-4pm
Friday 10-4pm
Saturday 10-1am