My good friends the band The Knockouts tell us about their club, Luton Town...


Q: When I was a youngster there was a certain glamour about Luton with the distinctive kit and some real flair players.
Do you have good memories growing up with/in Luton?


A
: When I first started going we played in simple black shorts and white shirt. Then we started our psychedelic orange phase early 70s, but have veered between the two ever since. Weall like the B&W combo but most fans seems to prefer orange. It'd be nice to start in the new stadium in Black and White again. We were often 'second or third' on The Big Match (London/Anglia) in the 70s and the shows were usually good for an Eric Morecambe piece. Our most successful and exciting era was 80s with 'dancing' D Pleat, and too many good players to mention. But, as you ask, Ricky Hill, Brian Stein, Mal Donaghy and Mick Harford.
The 'glamour' of Luton has always been there - an example is the entrance to our away terrace in Oak Rd. We love the town, despite all its varied problems, but the ambition and exceptional community mindedness of the football club is really giving us something to be proud of again.
Q: There is a mural on a pub wall in Luton with Luton personalities. Tell us a few famous names associated with Luton.


A:
The aforementioned Eric Morecambe. Neither he, nor fellow showbiz dynamo John Hegley are natives, but both have a special connection with the club. Una Stubbs, Sam Kydd and Gary Cooper lived in Dunstable. Away from showbiz, you've got Arthur Hailey (writer), Charles Bronson (criminal), David Arnold (film score person), Steve Dillon (cult cartoonist) and UK Decay (who almost invented 'goff'), Diana Dors - (local pub barmaid/actress), Josef Conrad - (although Polish, lived near Luton Airport) - (writer) Lee Thompson - (Madness saxophonist), Stacey Dooley - (TV person), Paul Young - (music-maker) & James Justin - (ex Luton European Youth Champions winner, now Leicester City) Zena Skinner, one of the first TV chefs, lived in Luton, but has not yet been immortalised in any public artwork in the town. This despite her celebrated recipes, including her 'Bufton Squares', 'Sausage Kedgeree', 'Jollof Rice', and her alarmingly named 'Gammon Slipper'.
Q: Why the Hatters?


A:
There was a huge hat manufacturing industry (and there still are a few small factories and individuals). Famous for the 'Boater' design (which are known as "Luton's" in Australia), plus if it's good enough for Stockport it's good enough for us.
Q: We share something in common, winning one trophy did any of you go that day?


A:
Err, no. Well, yes. Tim did. The rest of us were trying to make a music record. The late 80s were spoiled by Luton Town being run by a Thatcher loving chairman who banned away fans. Football (specifically Luton) wasn't very cool and music had taken over our lives so we stopped going for a while. We did watch the last 10 minutes though - we were 2-1 down and they're awarded a penalty. Dibble saves, Wilson scores, Stein scores - those ten minutes are the stuff of several thousand aged VHS tapes in South Bedfordshire marked "DO NOT TAPE OVER".
Q: We also share a date in destiny, the final league game at Ayresome Park. Do you think you will ever leave Kenilworth Road?


A:
YES The planning is approved for a new (quirky) stadium to be built right in the town centre adjacent to the station. It will also feature a lot of long overdue improvements in the form of arts and music venues, cafes, independent shops, flats etc, and the opening up of the River Lea (It's currently buried under several streets) It's a really forward looking design and will do a huge amount for the regeneration of the town. I'm (Tim) going to the Riverside this season - my only (football) visit to Middlesbrough apart from the last match at Ayresome Park. Odd day that, a gate crashed party. We didn't know who they were, but we politely applauded the Boro Legends on their laps of honour. The game didn't go our way though, deep in the second half, we retained a hope that our keeper Kelvin Davis - up for corners - would score the equaliser/last goal at the ground.
Q: Tell us about the incredible fall from grace – all those points being docked and falling through and out of the leagues. How good has the journey back been?


A:
The rot set in sometime in the 80s. The success we had back then began to attract all sorts of chancers and crooks for owners who all saw a way to make some money for themselves and over-saw us into administration 3 times after all the money had been spent. There was a sad inevitability about it. After relegation to League 1 we were docked 10 points (at the same time selling our entire squad to cover debts), then starting the League 2 campaign with minus 30 points and no players. Still we won the League Trophy (the embarrassingly named Johnstone's Paint Trophy) at the end of the season. And began a humbling and actually very rewarding spell of 5 seasons in non-league.
It's been wonderful. We've been so lucky, as fans, to have gone from FA Cup semi-finals, to horrendous play-off games in the Conference, and now back to a division where we're clearly punching above our weight. I can't imagine a better team to support in that respect.
Q: How much of a bond is there now between fans and club?


A:
At the moment, it's fantastic. The club are run for and with the community. It's quite humbling.... The whole team (on and off the pitch) is pulling together and it's a wonderful time to support Luton, even though we still have no money we're doing rather well thanks to some amazing free transfers and small fee signings.
Q: Tell us about your manager?


A:
Mad as a box of frogs. We've got to keep doing well, just to keep any chance of an 'Evil Nathan' emerging. He's seriously passionate and a huge motivator of the players who always seem to give their all for him (Stoke fans would disagree I guess, and why he went there we'll never know). Anyway he returned mainly because the players, management and board all wanted him back - they all risked their own reputations with the fans to re-appoint him as many fans truly hated him for deserting us, but that season enabled Mick Harford to take over and lead us to promotion, and when Nathan came back he continued the rise we see today. I think even the most hardened sceptics appreciate him again now.
Q: Which players should we look out forat the Riverside?


A:
They're all great at the moment. Kal Naismith's been consistently good, Allan Campbell is a tough nut in midfield, Elijah Anuoluwapo Oluwaferanmi Oluwatomi Oluwalana Ayomikulehin Adebayo gets the goals, but in any game, there are usually a few very decent performers. Nathan too; he kicks every bloody ball.
Q: You seem stronger at home than away, is that fair? How has the season been so far?


A:
Kenilworth Road is so small and (let's face it) horrible for teams to come to, and is a great little ground for us and we do well - especially on midweek games. We've been playing really well away from home so far in 2022 so hope that continues. We'll be sad to see the old ground go, but the new stadium will deliberately feature a similar variety of mismatched stands and quirky features (like floodlights designed to look like a giant hat(!) apparently). We'd all secretly like them to recreate the houses behind the away end for old times sake.
Q: Tell us about the remarkable publication that is Clod magazine And please tell the readers a little about the wonderful Knockouts.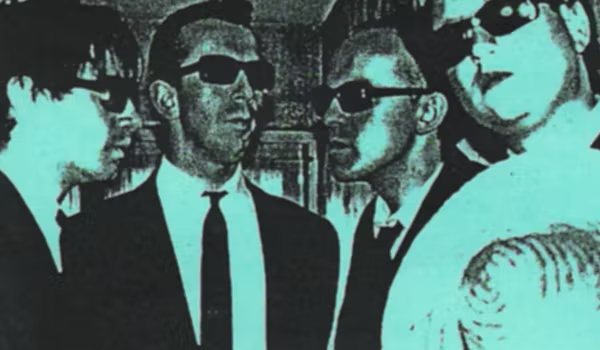 A:
Clod Magazine has run (tripped, fallen over, limped and picked up the pace again) since 1987. This makes it one of the grand-daddies of the pointless press world. Written by 4 of The Knockouts and published in a run of 200 copies, it introduces the reader to a much larger splay of fictitious magazine-world characters who create their own perspectives on the world.
We're currently working on issue 38, a 50 page A5 format which is priced at £3. It shouldn't trouble "Elle Decoration" or "Shoot" much, but it does cultivate a level of hysteria and monotony (combined) to give its readers an hilarious version of the celebrated 'nihilism with a family twist'.
Laughing out loud is guaranteed with Clod, as long as there is someone around to hear it. The Knockouts is Clod's house band. A stop-start affair, which has stopped for a while, but seems to be thinking about starting again. We're kind of instrumental punk. We all love music, except Tim, and listen to loads of different stuff. We're technically very inept, however, so if I have an idea for doing some kind of funny time signature on drums, or Steve wants to go all clever on keys, it all gets reduced to mid-paced, sulky garage punk. Our music is like someone going to a farmers market and Michelin restaurants for inspiration, then serving up endless twizzlers and SMASH.
Q: Finally - predictions for the score at Riverside.

A:
Two of us say 2-2 1 says 1-0 to Boro. One has not committed themselves - suspect we'll all be happy if we get anything off you.
CLOD magazine is an old school cut'n'paste fanzine that is well worth tracking down.

The Knockouts appeared as if by magic from the debris of the wonderful guitar riot of Thrilled Skinny.