A wonderful new publication marries words and paintings inspired by Teesside landscape and the Boro. Published poet, long time and indeed long term Boro fan, John Powls has returned to his home land to pay homage.

I wrote these few words of introduction to a Q and A with John in last Saturday's fanzine v Brentford. That was before I had seen the book itself. I was totally blown away upon picking up the Boro red and white chest band cover. Feel the weight of this tome and then turn the pages on beautiful poetry and high quality painting after painting.

If I were you I should rush to order it immediately.
'North Sea To The East' is published by Halsgrove's Halstar imprint (ISBN 978 1 906690 73 1) and is available (recommended) - postage and packing free - through their website
www.halsgrove.com
I asked too many questions here to fit the entire interview in the fanzine and so only published excerpts. I will chop it into sections on line for you to fit together but you can tell from the answers that John is a real wordsmith and that Teesside and the Boro are very much in his heart and soul.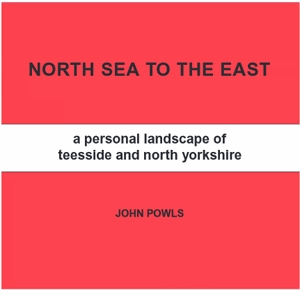 Q: What made you decide to create this publication?
John Powls:
Having written and published landscape poetry for many years about different regions of the country and the world but not my own, I had long wanted to bring together a collection of poems about the landscapes and seascapes of my native Teesside and North Yorkshire. Frustratingly, I couldn't find a way into bringing that together - maybe because it meant so much and I was so close to it in my mind and heart that the proper perspective was difficult. My plan was to have another go over this winter but the first vile virus lockdown provided an opportunity to focus on the task earlier. I got my head down and worked away at what material I already had and found a 'picture', a structure and way of working that would do the job. After discovering that, as it usually does in my writing process, everything fell into place and I brought together the rest of material for the book over the following six months. An important aspect was that I am now grandad to three terrific young grandsons to whom the book is dedicated. My grandad was an inveterate storyteller about places and people while we walked together when I was young, as some poems in the book attest. In my turn, I wanted my grandsons to hear about our region from my perspective - 'so they should know', as the dedication reads.
Q: Is this a life work in many ways?
JP:
Well, my life so far, anyway! I plan to continue writing - it's what I do. But, seriously, the poems in the book describe people, places and events that span more than 60 years of my life (I'm 67 now) and were written over the course of about thirty years, right up to the time of working on the book - which is almost as long as I've been published as a poet. So, yes, it is a life's work - and all the more significant to me for that.
Q: You left the area many years ago but your upbringing, formative years have obviously always been so important?

JP:
Absolutely. As a person and a writer, I owe my family and my home area everything. Whatever I now am, they laid the all important foundations and set the touchstones in place for. In developing my voice as a poet, those formative years shaped the language I use and the feelings I try to describe. That's why I say in the introduction to the book that, 'This collection is a sharing of the heart and a work of time and nature - pastoral, littoral and industrial. Part love letter, part thank you note, it's about belonging.'
Q: Can you tell us a little of your own story please?
JP:
I was born in a Stockton maternity home and lived in Thornaby until I was two when we moved to Brookfield in Middlesbrough, the house my Dad still lives in. I was schooled at Whinney Banks then Acklam Hall Grammar School. I first left Teesside to go to university in Birmingham but then returned for a few years when I first started work. I left the area again in 1978 to take up a career in public service management which took me all round the country, eventually ending up as a senior civil servant in the Ministry of Justice in London and living in Berkshire. I retired from that role and became a full time writer in 2013. Until the last year I have revisited Teesside often. I have been a Boro fan for over 60 years, following my Dad and Grandad. My son got the genetic inheritance too and between us we're working on the fifth generation of Reds!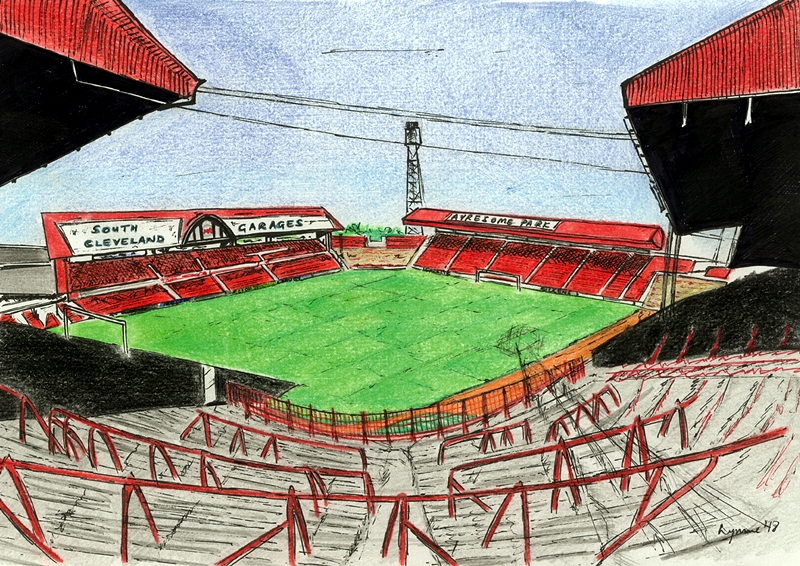 "Ayresome Park" by Lynne@SmoggieArt​
Q: How did you develop as a poet?
JP:
Books and reading were always important in my family - and I've mentioned my grandad's storytelling earlier - but I can trace my poetic life back to a formative experience with the old English poem, 'Beowulf' in junior school - about which there's a poem in the book. I wrote quite a lot at Acklam Hall and was encouraged by getting pieces of prose and the occasional poem in the school magazine. Whilst in the sixth form, through university and in the few year after that when I was back working on Teesside, I had the hugely influential experience of doing journalism on local radio. I began by reporting down a crackly phone line on local league cricket and football for the BBC and then moved to presenting, writing and producing arts programmes for the local commercial station in Stockton. The learning from that experience was invaluable in shaping my writing disciplines. But I knew that what I wanted to be - what I liked most, had the feeling for and was best at, I thought - was a landscape poet.
So, in my creative work, I stopped writing anything else than landscape poetry and concentrated on finding my 'voice' - the way of expressing what I wanted to say that was distinctively mine - and honing my writing craft. When I thought I was ready, I started submitting pieces for publication and - as almost all writers have to do - experienced the rejection slips piling up! But, I stuck at it and eventually - and almost together - I had acceptances of single poems from poetry journals in Teesside and in Devon where I was then living. The Teesside journal even paid me! Thus encouraged I gradually built up my portfolio of published work until I eventually had enough for my first collection and was taken on by a publisher and editor in 1995 that I've worked with ever since and who have also published this latest book. I'm still learning and developing as a poet - if I ever stop doing that it'll be time to pack it in. Other than that, it's - as the saying goes - '5% inspiration, 95% perspiration!' My website,
www.promiselandpoetry.co.uk
has more details about my writing career.
Q: It is beautiful book, did you want to create something inspiring to read and visually?
JP: Thankyoua, it's kind of you to say. That's important, I think. Someone once said that 'if you have 50 poems in your book, make the book itself the 51st' and I've always tried to do that. As well as reading right and sounding right, I've always wanted my poems to look right when set out on the page and my books to look good as objects as well as inspire in their contents. I've often collaborated with visual artists as well as designers to achieve this. If you're trying to evoke the beauty of our region and our feelings about that it wouldn't ring true to present anything other than a beautiful book to do it. The art inspires me too.
Q: With lockdown people are often isolated at home do you hope your book can open up views, feelings and emotions to people?
JP:
I really hope so - goodness knows we can all do with some 'opening up' - of all sorts - and pleasantness right about now. I hope folks can get the equivalent pleasure and fulfilment from the book as I did writing it and putting it together with those wonderful visual artists who generously contributed their beautiful work of landscapes readers will know. In writing a poem, I always try to relate my personal experience and feelings in a way that is recognised by and resonates with others, as I hope this collection does. A colleague has said that 'your book has something for everyone.' That was my aim.
Q: Do you think that distance gives you perspective both in terms of you geographically and looking back to your youth in poems?
JP:
Yes, absolutely. As I've said above, without that distance in time and space I don't think I'd ever have succeeded in creating this book.
Q: What aspects of the landscape and people of Teesside inspire you most?
Our people and places are distinctive, definite and dynamic - they are made by and make each other as nature and nurture iterate. The first impression is lasting - and special.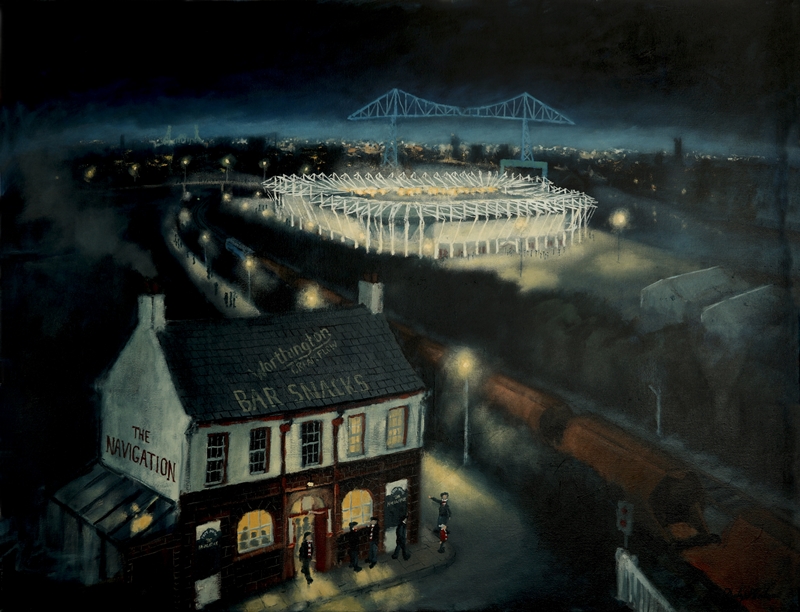 "Smoggies and Proud" Philip Meadows
​
Q: How was the artwork/artists selected? How much interplay is there between the artwork and the poetry?
JP:
They are very much a personal selection by me that was made in the research process of bringing the book together. Reference books, the internet and personal contacts got me the results I needed. Sometimes I had a poem already in being and could seek out an art work that resonated with it and brought out new and different aspects of meaning as a result. Sometimes just the idea for the poem was there or the words half-developed and the completion of the poem was done in response to the art work. Sometimes the poem and art work were developed together by exchanges between myself and the artist, sometimes over a period of weeks.
As I said earlier, I have often collaborated with visual artists and, through that, I have long known that there is a strong link between the working processes of poetry and the visual arts - they even share a common vocabulary. That commonality, when recognised, is very helpful in collaborations. Though the styles of the featured artists are as varied as they are distinctive, what they have in common is the heartfelt beauty and sheer quality of their work and their feel for representing our region - as shown in this collection.
Amongst the more than one hundred images contributed to the book are works by current, internationally renowned Teesside artists - the ever popular iconic Mackenzie Thorpe and modern master, William Tillyer - as well as more than twenty other excellent painters, printmakers and photographers. Most of those are based in or hail from Teesside and North Yorkshire though giants of art history like Turner and Lowry, contemporary masters and long time collaborators of mine are also represented. I acknowledge the artists fulsomely and individually in the content of the book but it's true to say that 'North Sea To The East' would not have happened without their enthusiasm to contribute their wonderful work. Without exception, everyone I approached responded so positively when I explained what I was putting together and gave their help unstintingly, as did many galleries, arts and media organisations. I'm most pleased to say that their feedback having seen their copy of the published book has been just as positive.
In the next Instalment John will talk about his Boro and the Boro influences running through the book.
PUBLICATION DETAILS
'North Sea To The East' is published by Halsgrove's Halstar imprint (ISBN 978 1 906690 73 1) and is available (recommended) - postage and packing free - through their website
www.halsgrove.com
Also recommended, through good independent booksellers - Drake's of Stockton
www.drakethebookshop.co.uk
and Book Corner of Saltburn
www.bookcornershop.co.uk
stock the book and have Covid safe arrangements to supply - and, of course, through Amazon.
Other quality outlets will stock the book when they re-open.
When circumstances allow, John will be putting together book launch events, an exhibition of work from the book and a programme of readings in the region.
Please visit his website
www.promiselandpoetry.co.uk
and for details.