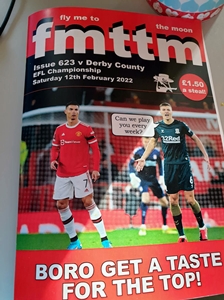 Fmttm Issue 623 v Derby County - inside bringing the celebrations from Man U and the plaudits from QPR back home.
Looking forward to Erimus74 Boro Memorabilia Exhibition at Base Camp and looking forward to Eng v Canada Women with Mbro's own international Marrie Wieczorek. Also looking ahead to a brand new football play. Eng-er-land talking to the star and writer Hannah Kumari ahead of the performance coming to Base Camp next month. Thankfully we have settled with Mel Morris but in Derby In The Red our expert book keeper raises some interesting questions regarding the Derby County administrators.
All this and far, far more besides.
ISSUE HAS NOW SOLD OUT - WITHDRAWN FRIOM SALE