Back to season 2010-11 and the dark days of Gordon Strachan - the only light was probably the 100% do or die effort of his signing Barry Robson. I caught up with the Scot for this short interview for the fanzine.
Fly: I watched your comeback at Swansea was it a relief to be back again after injury and suspension?

BR:
It's not been ideal. I missed the whole of pre-season and had to come straight back in. I came back and was back in full flight again and then I had a 3 game suspension which everybody knows about. And then I played one game and hurt my thigh and missed another 3 weeks again. So it has been a bit stop-start. But I got out there against Swansea and it was a bit frustrating. Maybe I wasn't at my best myself but I thought the team did well in bits and to lose a goal in the 86th minute was a bit disappointing.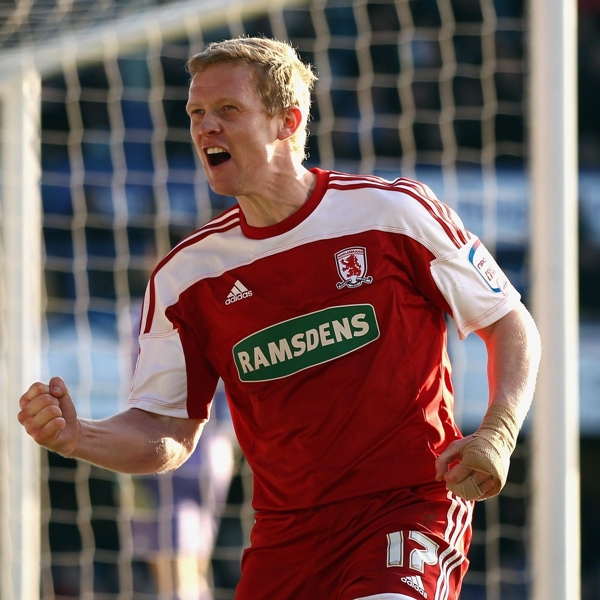 Fly: Yes. The fans that were there could see all the effort and that it was unlucky to lose in that way.

BR:
Yes there was a lot of effort but we didn't play to our capabilities I don't think. We will be looking at playing teams like Swansea and try to dictate the games rather than them having it more comfortable than us. That's the aim we need to work towards. We've got the personnel to do it; it is just about doing it. Taking our home form, when we are winning and playing well and taking it away from home. When we get that and start playing like that things will be happening for us.
Fly: I know you weren't playing yourself but was that significant for the squad finally winning away at Scunthorpe? After all those months of not winning away from the Riverside.

BR:
Yes I think so. I wasn't there but the boys were a bit buoyant afterwards but we should be winning away from home more. There's been games this season where we could have done. I think there is a lack of confidence in the squad at the moment and I think once we do start picking up a few more points and we can string a few results together, maybe three, four or five results together I think teams will sit up and take notice and I think we can build from there. Look at teams like QPR and Swansea they've been on the crest of a wave and playing well and winning games and its just confidence it's a massive thing in football and it's a thing the manager is trying to build at the moment and its something once we get we can start climbing.
Fly: After the Pompey game where you were sent off they strung a couple of results together and Bristol City suddenly climbed up from the bottom too.

BR:
Yes and it just shows you. And it was my fault that day and it disappoints me that no one has seen what actually took place in the box because it was a lot worse from him than anything I did to him. That was the disappointing fact and it was me that got the ban and it was them that got the penalty when it shouldn't have been, so that frustrated me.
Fly: I can't recall another incident like that where there wasn't even a photo to see afterwards.

BR:
No there is nothing and he cracked me right in the jaw with an elbow and I just tried to grab him back and I didn't get near him really and the linesman flagged for me and it should have been him that was sent off. But that's football and its frustrating and if we had won that day as well we would have been a lot further up the table but you look at the league table and we're only 7 or 8 points away from the play-offs. You string a few results together get the confidence flowing and flying and I think we will start climbing up that table for sure.
Fly: It's a strange way they have done the fixtures this season, the last few months has been two home and two away. Does that affect you at all?

BR:
No it makes no difference.
Fly: Does it not put you under more pressure if you lose that first away game?

BR:
To be fair I didn't even know until you mentioned it to me for sure. So no it should make no bearing. I think we need to pick up on our away form that is for sure. It's been strange that we haven't been great away from home. Other clubs I've been at we've always been comfortable away from home. As I said things will start to turn for us and we've got the good players. I think you can see there have been a few games, especially at home this season when we played Burnley and Reading we really showed what a good team we can be. It is just about finding that consistency and form and playing to our capabilities. I think once we do that we will do well.
There's 30 games to go there is no panic. The fans have been great, the fans have been behind us the whole away. Since I've been to the club they have been absolutely outstanding and it is a great feeling to play for them every week. I had a great reception from the Celtic fans when I was up there and when I've come here the fans have Greta for me as well so that really helps.
Fly: You mentioned Burnley and obviously it was a fantastic atmosphere at the end.

BR:
Yes, yes and the fans make it. Fans putting the pressure makes it even better. They are a big, big part. In fact the fans are everything at the football club. They are the whole football club really. Us players are just here to try and do the best we can for them and make sure that they are going home happy. That's what we need to. It's through hard work that we can do that for them. That's why you try and live right and prepare right and put the pressure on ourselves to be right on a Saturday for them. That's the way I look at it.
Fly: I think fans take to the fact that you do graft out there on the pitch.
BR:
Yes I try to work my hardest. It's not all about graft I like to think I've got a bit of ability as well. But sometimes that overshadows it. I don't think it is a hidden fact that I have got on really well with the fans here but I know if I slacken off and I don't do well for the club then they are not going to want me playing. So that's the way football is but as long as I can show that I am working hard for them I'm sure I'll always have a good relationship with them.
Fly: You mentioned having more than graft. And we were talking earlier about the Boro highlights DVD, the Boro Blitz, best of the Riverside, you scored a brilliant goal last season v Newcastle.

BR:
Obviously it is great to have something on the video with some of the great players that have been to this football club. Some better players than me. It's great.
Fly: You broke the Riverside record with that early goal this season too. Didn't you?

BR:
Yes I did yes I have actually scored quite a few. But I just think it has been a frustrating season for me so far, I think the fans will know that too. I think I've missed 5 or 6 games and it has been a bit frustrating, I've been injured and suspended. There was a month there where I was hitting top form again. But that will come back with the more games I play. There's one thing for sure there will be 100% work rate coming from me for the fans and I know we will move up that table.
SUBSCRIBE TO FMTTM (UK ONLY)
Fly Me To The Moon Boro fanzine - season 2022-2023 season subscription - ten monthly issues July to May - officially unofficially Boro PRICES ARE UK ONLY
www.paypal.com