Its that time again>>>>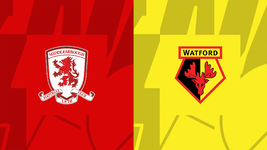 Is Zak "under srutiny" (?) -
"Not from me! I dont know why? I`ve got no problem with Zak"! [Michael Carrick]
Six days is a long time in football and much can happen. Whats done is done: that appeared to be the message yesterday from Michael Carrick in his Media Conference. Certainly, he was aware we hadnt performed to our best and he was disappointed with Daels red card. But he didnt dwell on it and refered to the comments he had made following the Sunderland game.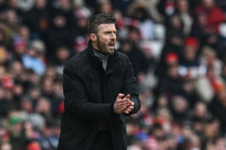 One of the main concerns this week was the question of transfers, with one or two of the reporters probing to find any scraps regards incoming and outgoing deals: Michael, as always said he had nothing to report and we would all have to wait and see. He did comment that "work......is always going on" to make things better and improve the quality of the squad:-

"Its about getting the right players in at the right time". Its not just about individual players, but about the current squad, the players mentallity and their character. How does he measure that (?) - "there`s ways of doing it". Take note! "We have a really good squad and a really good group of players.....". "We`re not desperate [to get players in or out]. We`re not going to make rash decisions". That ties in with his comments pre-sunderland, that hes not going to bring in players to plug a gap or because they are "available".

"You need players that bring a balance to the team. You cant ever have everyone the same. You need a good mix and a good blend. Everyone has to bring something a little bit different. They all have to be here for the right reasons and push in the right direction".

Watford:
Are the boys up for it? The same journalist who every week asks and answers his own questions, asked Carrick if they wanted to preform against Watford "even more" because of last weeks defeat. His response was polite, but unambiguous:

"I wouldnt say `even more`, because if it is `even more`, it means we aint motivated enough to start with"(!).

He certainly creates the impression, [unlike some previous Managers], that an emotional response to results and perfomances is not something he encourages. He expects players and his staff to manage the highs and lows, but also to aim for the same high standards, week in and week out....and "Ups and downs are part of football......we take the bumps when they come". He repeated that motivation, belief and confidence are important. He expects everyone to learn how to manage games and improve together to achieve positive results. "The boys are in a good frame of mind". They have been training well over the week. Its "going to be a challenge", but "its just the next game - whoever we`re playing".

Cameron Archer?
"Hes been terrific. He`s trainerd really well and getting sharper. Hes getting to know the boys and they`re getting to know him".
Importantly he commented that its the "team" which comes above the individual. Was Archer going to play alongside Chuba? Carrick was unequivocal - he will pick the team he thinks deserve to be picked to perform on the day. No one has a place which is "nailed down" or first on the team-sheet. He did comment that there will be plenty of football ahead for Cameron and stressed:-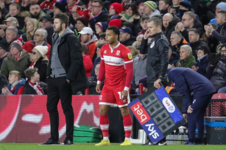 "Tactics are one thing, but when you`re on the pitch, understanding little partnerships and [working as] units and in [different] combinations.......being on the wavelength[with other players] takes a little bit longer. A time to work each other out...".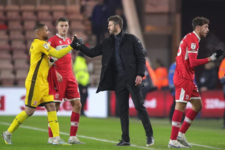 Zak Steffen?
An unfortunate reporter made the comment that Zak had come "under srutiny" and was met with an instant reply:
"Not from me!
I dont know why (!?)".
Carrick wants the team to play through the pitch and be fluid in its approach.
"Zak is a big part of that. He starts our attacks off....".
"I`ve got no problem with Zak."

Fans?
Would he be issuing a plea to Boro fans to get behind the team? Carrick smiled and said "its not a plea....thats football". He made a point on complimenting the hardy souls last week, stuffed up in the rafters. He also made a point in ensuring the team acknowledge the travelling fans. He wants to give us something to cheer about and be happy Boro are doing well. Here! Here! to that.

Time to go again.

Come on.

Up The Mighty Boro!
Last edited: