Looking at this YouGov poll this morning and surprise, surprise, the boomers strike again. Almost every poll I read I disagree with their position.
The people least impacted by this are the ones who have the strongest opinions about sending people back to the office.
Should people be sent back the office to save these town and city centres?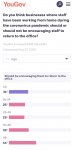 Last edited: