Thing is it's only just dropped to those levels and I believe they need a period of stability for prices to see meaningful drops, at least this is a start anyway.

Octopus tracker is definitely trending down but it is slow and it's spring so lower gas usage

Our MTD figures we've used £67 elec and £21 gas so far this month - £88. On epg it would have been £107 elec and £46 gas; £153. £65 saved so far. 42.48% savings.

Using the new rates, we would have paid £100.16 elec and £35.91 gas so £136.07; octopus tracker currently 35% cheaper than the new cheaper govt rates
Yeah I think it works on a delay of circa 6 months, as the energy is bought well in advance. So in 6 months' time we should get much more of a benefit, as that is effectively already baked in. But if they are appearing to go up again I bet the rate given isn't the one according to where supplies were at.
The price we're paying per MWh is well on the way down now too, £50 was where it was at from 2012-2020.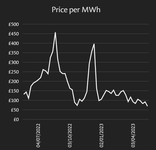 I'll be getting on that tracker as soon as I can.