Administrator
Staff member
NORTH EAST ELECTRONIC LEGENDS RELEASE NEW ALBUM TODAY:
'THE GIRL WITH A HOLE IN HER HEART'
OUT NOW, VIA OTHER RECORDS
Today, legendary North East electronica act - A MAN CALLED ADAM - release their new album: 'The Girl With A Hole In Her Heart
'.

A physical vinyl edition arriving on 21st July.
Praised by
The Guardian
this week as
"one of the most potent, bittersweet records in their 35-year career"
, the album also attracted warm words from
The Crack
who said:
"Fusing gorgeous synth-pop, ambient, house and electronica this is Balearic on Tees and all rather thrilling."
Their first new album since 2019's 'Farmarama', 'The Girl With A Hole In Her Heart' is a Balearic record, though not one that's inspired by those fabled Iberian sun-kissed beaches that stretch on forever and sunsets that stop you in your tracks. Rather, it's a House record made for all night dancing in a decommissioned steelwork. It's an ambient record that strolls a windswept coastline where lime-grass dunes rise and fall like slumbering megafauna. The album walks the ugly, lovely industrial coastline of the North East of England, stopping at points to soak up the breathtaking scenery and watch everyday life carrying on in the face of rapid deindustrialisation.
Over the album's eleven tracks, A Man Called Adam perfectly capture both a time and place. While "Starlings" dances carefree like a murmuration and "The Girl With A Hole In Her Heart" trips back through snapshots of terrace house childhood whilst rolling on a retro electro bassline, "Hidden Dragon"'s low end bass evokes heavy machinery looming large on the horizon. Gorgeous ambient soundscapes like "In Favour Of Storms" glide gracefully as shift sirens and field recordings of demolition blasts lace with "Ammonite"'s controlled kettle drum rolls into an addictive Lil' Louis pulse.
Talking about the effect of her local environment on 'The Girl With A Hole In Her Heart',
Sally
says:
"Spending this precious time back in the wild coastal and industrial landscapes of Teesside has stirred up that sense of awe at the steely, elemental authority of nature, and in human resilience. The melodies, sounds and lyrics are sometimes flinty and angular, sometimes fluid and fun (because the people are very funny here), and I hope the record reflects those feelings of human fragility and deep time that I always feel looking out to sea on stormy days."
The Girl With A Hole In Her Heart was made in Teesside. The sleeve photos for Fight or Flight and the album (along with previous singles Starlings and Ammonite) were taken by Robin Dale in Teesside in the 1970s.
With doctoral research that spans the fields of sound, technology and lyric form, they have produced soundworks for BAFTA winning director Mark Jenkin, The British Museum and BBC Radio 4 among others and this summer they're creating a series of works and events for a blockbuster exhibition – 'PEOPLE POWERED: Stories From The River Tees' – a collaboration between MIMA (Middlesbrough Institute of Modern Art part of Teesside University) and The National Portrait Gallery about the River Tees and its cultural impact (opening 22 July).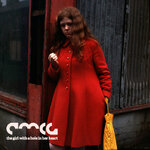 Last edited: