Tackle This? The Biography of Football Hardman Mick Kennedy by Johnny Meynell – Legends Publishing

Biography of Mick Kennedy – Boro, Pompey and Rep of Ireland midfielder. (Born 9 April 1961 – Died 9 February 2019)
Right Place Wrong Time would perhaps be the best phrase to sum up tough tackling, workaholic midfield terrier Mick Kennedy's two year stint at Boro. Yet Mick Kennedy was in so many ways a supporter's dream, pulling on the McLean Homes Boro shirt he would run through brick walls and several opposition midfielders and defenders for the cause. Finally sold to keep the wolf from the rotting, rusting gates, if Kennedy's stint had been at just about any other time in our history he would probably be revered as a great. As it was he did go on to have a top career, spanning top flight football with Pompey and international caps for Republic of Ireland.
Step back in time to the summer of 1982, the club had just been asset stripped and relegated to the second tier. Manager Bobby Murdoch was bailing out and up a creek without too many paddles when he swooped for the 20 year old from Huddersfield. The £100k fee was not to be sniffed at but with so many star players racing the other way many fans were cynical and tuning out from a club with doom written all over it.
Kennedy rolled up his sleeves and battled. His endeavours were appreciated by managers as poles apart as flamboyant fedora wearing Malcolm Allison and down to earth duo of Jack Charlton and Willie Maddren. Even his regular appearances in front FA tribunals did little to tarnish his standing but certainly enhanced a hard man reputation. For this was a period when every club had a hard man who thought nothing of going over the top and making a mark on an opponent. The diminutive Mick Kennedy was afraid of no one, that much is made clear in the pages skilfully knitted together by author Johnny Meynell.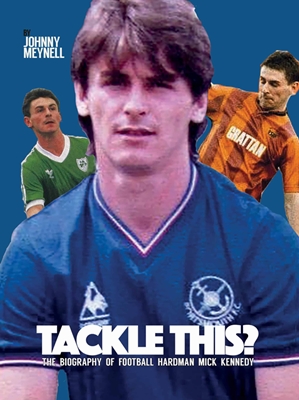 I recall Kennedy's return to his former club Huddersfield. He was getting plenty of stick from the Leeds Road fans and players alike. Picking up the ball and feigning to take one of his long throws he instead fired it missile like into the face of a Terrier player. The referee immediately booked Kennedy. But that is how to cement your status with your new set of fans and draw a line with the past in one swift movement.
The book recounts a blow by blow run through a long and turbulent career but also reveals a really down to earth lad who loved nothing more than mixing socially with the fans. We are told that he hated missing a date with the pub almost as much as missing matches. Even with a gaping gash in his shin he would declare himself fit to face Arsenal in the FA Cup. And a broken nose wasn't going to prevent him from a night out he snapped it back into place in the pub toilets so the merriment could continue. That's how hard Micky Kennedy was.
Of course being born into the drinking culture was ultimately to take an appalling toll when Kennedy could no longer run off all night and morning sessions round Ray Hankin's, in training. The tragedy was that he would end his days in an apartment in rural Ireland discovered dead from a heart attack after lying alone for a day. But as Johnny Meynell reveals Kennedy was not forgotten by his fans and former team mates. His funeral was crowd funded and there were tributes flowing from people at all of his former clubs. His Pompey Hall of Fame award was placed on his coffin and a minute's applause rang out around many Football League clubs.
This is a really well written book recording a workaday working class hero playing in the days before Premier super stardom. From The Shay Halifax to Ayresome Park and on to Pompey chimes at Fratton Park Mick Kennedy was loved by fellow players, delighted the fans and made many enemies from his tough tackling enforcing. There are a few player name check errors in the Boro section but it in no way detracts from what is a really worthwhile read.
The final line in the book is taken from an interview with journalist and former Boro programme columnist Rob Stewart and perhaps sums up the career of a player that never gave anything less than 100% on and possibly off the field.
"I ended up having ten clubs, which seems ridiculous. But I wouldn't like to think I short-changed anyone."