AWARD-WINNING MULTI-VENUE FESTIVAL ANNOUNCES FATHERSON AS FINAL HEADLINER, AND REVEALS MORE NEW ACTS INCLUDING BORED AT MY GRANDMAS HOUSE, TOM JOSHUA, MARKETPLACE THEY JOIN LAURAN HIBBERD, THE HOWL & THE HUM, JORDAN MACKAMPA, DREAM NAILS AND MANY MORE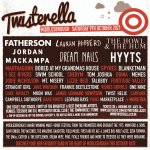 Twisterella - Middlesbrough's award-winning multi-venue music festival - returns on Saturday 9th October 2021, and today reveals final headliner Fatherson amongst more great additions, including Bored At My Grandmas House, Tom Joshua and Marketplace.
Co-promoter Henry Carden says: "We're delighted to have added Fatherson as our final headliner for Twisterella 2021! They're friends of the festival and we couldn't ask for a better way to close the whole event; it's gonna be emotional! Along with Lauran Hibberd, The Howl & The Hum, Jordan Mackampa and Dream Nails, this is without doubt our strongest set of headliners. With the likes of Bored At My Grandmas House, Tom Joshua and Marketplace joining the bill too, we can't wait for people to discover their new favourite band in the heart of Middlesbrough this October."
With all of the venues less than a 5 minute walk from one another, the 1,250 capacity multi-venue metropolitan music festival utilises established stages such as Teesside University Students' Union, The Townhouse, TSOne and The Westgarth Social Club, along with pop-up sessions in some of the town's coolest bars in nearby Baker Street and Bedford Street. Co-Promoter Andy Carr said, "After the uncertainty of the past year there'll be no better way to reconnect in the heart of Middlesbrough. We can't wait to welcome everyone back to Twisterella. Twisterella is such a special event and we're incredibly proud of what it means to the region's music fans."
Since launching in 2014, Twisterella has established itself as one of the go-to events for new music discovery on the UK festival circuit, having brought the likes of Sam Fender, Fickle Friends, Dream Wife, Black Honey, Bloxx, Boy Azooga and more to the heart of Middlesbrough. Consequently, in 2019, Twisterella won a prestigious AIF Independent Festival Award for its 'forward thinking bookings', reflecting the event's track record in showcasing the finest emerging national and international talent, as well as giving a platform to a select number of local and regional acts who are ready to make the step up to the big stage.
In 2021, Twisterella will follow in this tradition by playing host to the brightest and best breaking bands, with Fatherson, The Howl & The Hum, Lauran Hibberd, Jordan Mackampa, HYYTS, Spyres, Dream Nails, MarthaGunn, Bored At My Grandmas House, I See Rivers, Swim School, Talkboy, Lizzie Reid, Cherym, Cheerbleederz, Tom Joshua, Odina, Memes, One Nine, Venus Grrrls, Straight Girl, Fortitude Valley, Mt. Misery, Moon Wax, Carpark, James Leonard Hewitson, Jodie Nicholson, Twist Helix, Campbell Sibthorpe, Frankie Beetlestone, Jake Whiskin, Bare Roots, Blanketman, Luke Royalty, Marketplace, Phibi and Leopard Rays all performing.
Tickets
here
Spotify playlist
here
​