Good afternoon all, not been too bad a day all things considered. Nearly the end of the month, it's a weekend and it's looking like Dan Barlaser will soon be amongst the Boro ranks to bolster our midfield for the rest of the season. Bit of a poor performance against the Mackems last time out and truth be told we were second best even prior to the Fry red card and penalty. However, there is no way on God's earth that was a pen or a sending off, was two lads chasing the ball with both having a bit of the other. The difference is that Stewart was canny in his approach and rest is history. Oh well, we move on and there's another 6 pointer tomorrow at home to Watford. IF we can get 3 points then that'll be a great run of 9 points from 12 against our competitors in and around us. Let's keep our fingers crossed.
Now onto the important stuff and with it being Burns Night this week I'll allow myself to tuck into 1 or possibly even 2 of one of my favourite drinks McEwans Champion. A really, really nice drink though absolutely not a session drink given it's very high ABV. Or at least not if you want to remember the weekend when you start work again on Monday.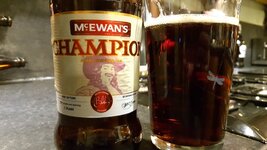 Music wise I thought I'd stay with the Scottish theme and get things going with Simple Minds and the still hauntingly fantastic Belfast Child.
Slàinte Mhath