Administrator
Staff member
The annual autumnal Discover Middlesbrough festival of walks, talks, open days, exhibitions and cultural activities attracted record crowds this year.
Thousands made their way to mima to explore Stephen Waller's 3D model of the historic old town "Over the Border."
Five hundred people were drawn to the Navigator North hub in Hill Street Centre to bathe in the nostalgia of a Wish You Were Here old postcard exhibition which acted as a celebration of a decade of the Memories of Middlesbrough Facebook page while children and families flocked to Stewart Park to share Captain Cook's birthday party with special guests from the Cook Island Rugby League team.
Festival goers were invited to try new experiences and explore different aspects of Middlesbrough. Behind the scenes tours around Middlesbrough Town Hall were a real winner, while for the very first time we teamed up with A Taste of Africa to celebrate Black History Month with events in the main hall.
Record numbers were introduced to the new Teesside Archives HQ in Dorman Museum and a tour around Camphill Village Trust's Larchfield community proved very popular. For the first time Discover Middlesbrough linked up with Central Mosque for an open day that proved enlightening.
The festival also included healthy pursuits as driving rain and October gales did not put off intrepid walkers setting out on the enigmatic and ever popular Black Path. More leisurely guided strolls around Linthorpe Cemetery were well attended too and for the first time Discover Middlesbrough teamed up with Navigator North to offer a special arts award for children participating in crafting activities in Hill Street Centre.
The very popular Boro Shirt Museum helped launch the festival at Base Camp attracting the matchday football crowd into the town. In an adjoining room Heritage Unlocked's Dr Tosh Warwick enthralled the crowds with a talk about Boro's greatest ever goalscorer, George Camsell.
Discover Middlesbrough coordinator Robert Nichols said: "At a time when many major town centres are losing footfall we thought it more important than ever to provide events and activities that might attract people into the town.
"Some people told us that it was their first time going out into town for many years. They had lost confidence or changed their lifestyle after covid. It was really heartening to welcome them back.
"Thank you to all the volunteers and organisations that gave their time to host events and activities and to Middlesbrough Council's Events teams for offering their support and a guiding hand. Hopefully we can return again next year. Many thanks again."
Cllr Stephen Hill, Middlesbrough Council's Executive Member for Culture and Communities, said: "It is really great to see Discover Middlesbrough welcoming record crowds and putting on so many fantastic events and exhibitions. We want to thank everyone who has contributed to making 2022 yet another success story."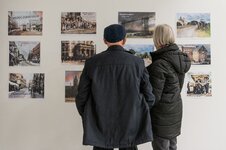 photo above Rachel Deakin