So we are at that point where the 6 pointers come to the fore. I reckon there are 9 teams that will be in the mix for play offs promotion. Yes Burnley are already up effectively. But I don't think Sheff Utd are there yet.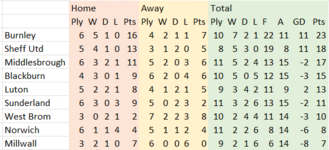 Key points:
- Burnleys record against the other top sides phenomenal.
- Sheff Utd unbeaten against the top sides.....however, they've played the least games against the top sides, and onlt 3 away games against the top teams. So expect this to drop. They've got the most difficult run in statistically. Without their form changing, expect us to catch up 5 or 6 points on them, purely due to the fixtures they have left
- I'd rule Millwall and Norwich out of play off success due to their real poor form against good sides
- Luton have done equally as well as us against the top sides, but they've got 2 more difficult games than us in the run in
- Statistically we are realistically the only side that can catch Sheff Utd.
Lets see how this pans out over the next 3 or 4 weeks.