If people are so against asylum seekers how about we apply some pressure to stop the sale of weapons to regimes displacing millions across the globe?!
What about some reflection on how our own foreign policy has pushed these very people to our doorstep?
Goingnowehere: With the rampant corruption and cronyism we have seen in recent weeks it disgusts me that you lay any responsibility for the state of this country at the feet of the most desperate and deprived collection of people possible.

Earlier in this thread, or maybe another - I forget- there have been a couple, someone was bemoaning the characterisation of brexit voters as thick xenophobes and all you have done is spout daily mail headlines and perfectly perpetuate the trope.
How any parent can see a family forced to flee their own country in search of a life for their children and come to the conclusion they're the F***ing problem in this country is beyond me. You ticked and box to sell your own country down the river, supposedly for a marginal gain for your daughter in 50 years or something ridiculous. But a father fleeing a war torn land, certain death and poverty - travelling thousands of miles with family in tow - being confined to dehumanising camps- and doing whatever it takes to give their family the best chance to succeed- that's abhorrent to you?
Sod the asylum seekers, mate, we should just deport you.
For someone to flee their country for asylum you have to be pretty desperate I agree. Tell me though if you were to flee from a country where would you go? Would you not stop at the closest safe country you come to? Why would you risk travelling across Europe with little or no money to put yourself on a dingy to cross one of the busiest shipping lanes to get to the uk? It's because we are seen as a soft touch, a safe haven sold to them by the ones selling them a life of a king. Funny also tell me why are these boats that are coming across the channel mainly adult men? Not many women and children on them is their.
Protect your own should be a priority and yet we allow asylum to come here without any idea of their mental state.
Kahiri Saadallah, Lybian asylum seeker stabbed 3 men dead in Reading. Not a mail story it's a fact.
Badreddin Abadlla Adam, Sudan asylum seeker stabbed 6 people in Glasgow. Not a mail story it's a fact.
Both incidents which happened this year and will be more too. Unregulated travellers coming here and some we won't even know about.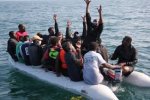 not many women and children on this boat is their?