The Boro Shirt Museum is back at Base Camp Middlesbrough this Saturday 19 March with another incredible collection of vintage shirts. The theme is Champions to Bust and the exhibition will tell the story of MFC's rollercoaster of 70s success to the padlocks on the gates of Ayresome Park with a carefully selected collection of shirts from 1970 to 1986. The exhibition is totally free to the public. It opens at 1pm and closes at 4.30pm giving fans a perfect build up before moving on to the Cup Quarter Final v Chelsea at the Riverside.
This is the third exhibition by the Boro Shirt Museum and the collectors behind the initiative Mark Davies and Jamie Fox are expecting a huge turnout. "The crowds at last two have been amazing but so many people are travelling home to Boro to watch them play Chelsea in the FA Cup this Saturday, we're expecting our busiest exhibition ever," say Mark.
"It's not all about numbers though, it's about the stories and memories that these shirts evoke. It's really quite an emotional experience having all these supporters with their shared history. We've met some amazing people through the Museum. We can't quite believe the following we've achieved," adds Jamie.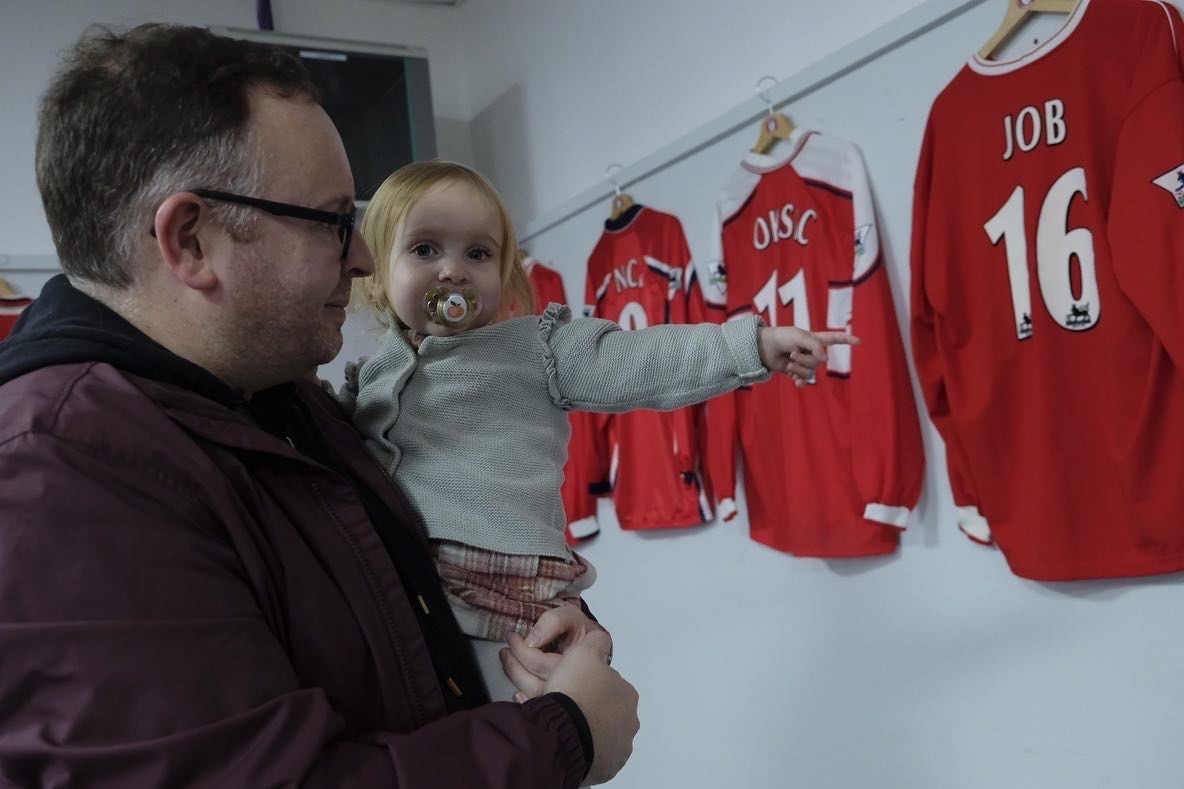 The pair, who own an incredible 800 Boro shirts between, met when they were bidding over the same Paul Merson shirt. "We were bidding against each other. Jamie won of course," laughs Mark. "Then we started to speak on Twitter and found out we do exactly the same jobs working as instrument engineers. We both have young boys, Jamie an 18-month-old and I have a 4-year-old."
Adds Jamie' "We both just have all our shirts stored away in our lofts. The only time we see them is when we take the Christmas Decorations out and think 'oh I'll have a look at these shirts' so we just thought it would be great to pool them together and get them on display."
The pair source their shirts through ebay, auctions, raffles and ex-players, many of which come with certificates of provenance. It's a big business but for Mark and Jamie, the joy is in the stories that each shirt provide. "Looking at a shirt from a specific match triggers a whole set of emotions. It's nostalgia at its finest. Memories of old pubs, old friends and family, Ayresome Park, the smell of the Bovril stood on the Holgate terrace, the memories of joy of special games, and the heart ache of those ever so nears," says Mark. "We'd planned this exhibition long before we knew we'd be playing Chelsea in the FA Cup so we'll also be throwing in a few special shirts that relate to previous big games."
Mark & Jamie will be bringing regular pop-up exhibitions to Base Camp themed around different periods at the club in coming months with 86-94 and the McLaren era on their radar for future exhibitions.
But their plans don't stop there. "The end game is to bring out a high quality coffee table book in time for Christmas 2022. It will be photographs of our best 50/100 shirts from important games. Ex-players have also shown a keen interest in our project and have given us interviews of their playing career for our book," says Jamie.
"We are hoping Middlesbrough football club will buy into our project and maybe use us for functions at the club and promotional events.
"This is all non-profit. All funds raised from the book and future exhibitions are going to be donated to a mental health charity which is something close to our heart," adds Mark.
The exhibition will be on display 1-4.30pm at Base Camp in Exchange Square near the town's railway station. Entry is free and there will be a bar & food served throughout. The venue runs its family and away fan friendly Ali Brownlee Social Club before every home game and Graham Ramsay from Base Camp is delighted to be hosting another Boro Shirt Museum exhibition.
"When Mark & Jamie approached us with the idea for the Museum we just knew it was a winner but even we didn't expect the level of interest. We have hundreds of people through the door for these exhibitions and the stories and memories are amazing to listen to. It can be really moving."
"Jamie and Mark are brilliant to work with. Their enthusiasm and knowledge knows no bounds and they even presented us with some incredible one off Boro Shirt Museum Base Camp commemorative shirts. Needless to say they'll have pride of place in our office. We've had to stop our team fighting over who is going to wear them!
"We're dead excited about Saturday – can't wait to see what the lads have pulled together!"